EU rules out TTIP deal with US under Obama, seeks to salvage Canada deal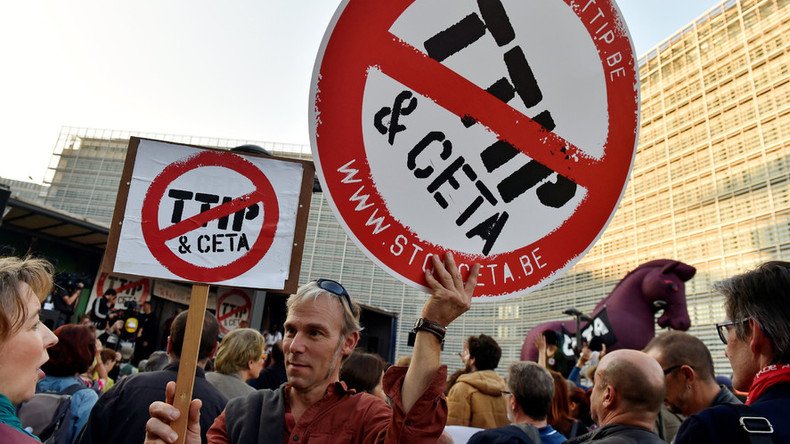 France and Austria have demanded the suspension of controversial TTIP negotiations until a new president takes over the White House. However, a similar deal with Canada is slowly moving forward despite protests.
EU ministers and the European Commission agreed on Friday, that the negotiations between Brussels and Washington on the Transatlantic Trade and Investment Partnership (TTIP) are unlikely to end before US President Barack Obama's term expires in January next year.
"It is not realistic to reach the final agreement by the end of the Obama administration," trade minister of Slovakia, Peter Ziga, told EurActiv.com. Slovakia currently holds the EU's six-month rotating presidency.
Earlier, officials on both sides of the Atlantic said that they hoped to see TTIP passed before the year ended. But public resistance to the deal has been growing and has erupted in thousands-strong demonstrations across Europe over the past couple of years. People in some of the EU's strongest economies, e.g. France and Germany, are among those who oppose the treaty most, pressuring their governments accordingly.
During the informal meeting, Austrian and French ministers argued in favor of suspending talks on TTIP to give time to individual member states to rethink the trade treaty and explain it better to the public. Luxembourg and Slovenia expressed similar reservations.
Austrian Vice Chancellor Reinhold Mitterlehner said TTIP talks in their current form are doomed after the meeting. He said after the US presidential election in November they could be relaunched with greater transparency, clearer goals and under a different name.
Finnish trade minister Kai Mykkanen said that renaming the deal could solve the negative publicity it garnered over the years.
"There are so many unreasonable fears and maybe they are tied to the name TTIP," he said.
Critics of the deal said it gives big capital too much power in bending national regulations in their favor, which would result in degradation of labor, environmental and health standards in Europe. The idea of a corporate court, where nations would undermine national sovereignty while ruling on lawsuits by companies to national governments is of particular concern.
A similar deal with Canada called the Comprehensive Economic and Trade Agreement (CETA) progressed further this week. It may be signed in late October during the visit of Canadian Prime Minister Justin Trudeau to Brussels, provided that an extraordinary ministerial meeting of EU members a week earlier approves it.
"There was a great willingness to sign the agreement in October," Sigmar Gabriel, Germany's economy minister and vice-chancellor, told reporters after Friday's talks in Bratislava.
He added that CETA should serve as a model of how TTIP would finally look and said otherwise it would not go through.
"If the Americans are not ready to meet at least the standard of CETA, with Canada, then there will be no chance of a deal," said Gabriel.
As EU officials discussed the two trade deals, around 100 local activists picketed the meeting holding protest signs in German and English.
You can share this story on social media: