Snowden, Russian web guru argue over security of WhatsApp & Telegram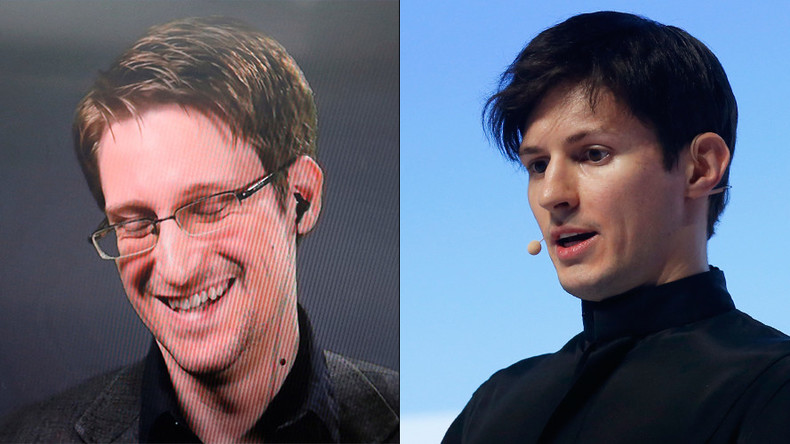 In a new security spat on his Twitter page, NSA whistleblower Edward Snowden said that despite finding Telegram founder Pavel Durov's work "admirable," he still believes the messaging service is "less safe than WhatsApp."
Previously Snowden criticized the new messenger Allo by Google, because it "stores every message you ever send and makes it available to police upon request." One Twitter user asked Snowden's opinion on Telegram, and a new dispute on IM security erupted.
READ MORE: Whatever you do, do not use Google Allo: Snowden
Snowden said the messaging service is "dangerous for non-experts." Pavel Durov joined the conversation and noted that WhatsApp (WA) stores "entire chat histories not encrypted on Google Drive/iCloud."
Durov also said: "~80% of WA messages end up being stored unencrypted in the US, readily available for US agencies. +100% of metadata."
Snowden, for his part, said that external services are somewhat irrelevant in this case and demanded proof for Durov's words.
Durov replied that Telegram provides encrypted cloud for users, while WA can "switch off their "e2e" [end-to-end encryption] remotely from their server for any user at any time."
The first dispute between the two on the security of Telegram emerged late in 2015, when Snowden expressed doubts about the messaging service's default settings.
Edward Snowden is a former NSA contractor and CIA employee who revealed thousands of classified documents on global surveillance in 2013 and fled from Hawaii for Hong Kong, sought asylum in a number of countries, including in South America, but was eventually stranded in Moscow after the US revoked his passport. Snowden faces criminal charges of espionage and theft of government property in the US, despite repeated calls for President Barack Obama to pardon the whistleblower.
Pavel Durov is the founder of Russia's Facebook-like social media "VKontakte" and messaging service Telegram. In 2014, Durov left VKontakte and Russia, claiming that Russia's government was interfering in his business. Telegram was founded in 2013 and is headquartered in Berlin. The messaging service has gained millions of users claiming privacy and speed as its top priorities.
You can share this story on social media: