Possible link between Saudi royal and terrorism found in Gitmo transcript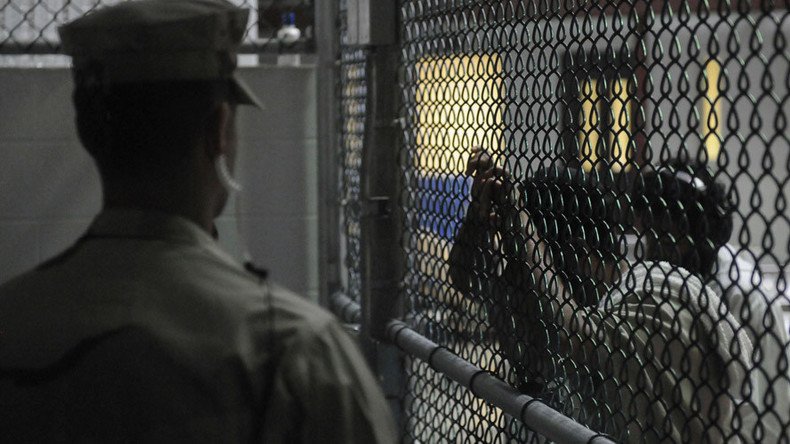 A Guantanamo Bay prisoner said he heard a phone conversation between a religious figure who talked about his qualifications for jihad, and a person the figure addressed as "your highness," who the prisoner believes to be a Saudi royal.
Ghassan Abdullah al Sharbi, a 41-year-old Saudi national, is among the remaining 61 terrorist suspects being held at the US detention facility in Cuba. In June, he reported the alleged conversation with a Saudi royal family member to the Periodic Review Board, which assesses whether Guantanamo prisoners can be released. On Thursday, the Pentagon published a redacted transcript of his words.
The conversation Sharbi described happened in early 2001, shortly after he returned to Saudi Arabia from the US, where he had taken some flight school courses in Phoenix with two men who would become hijackers in the 9/11 attacks, AP reported. The religious figure was urging him to go to America again and take part in a plot against the US.
The prisoner said he listened to his recruiter speak with another man on the phone to discuss Sharbi's US experience. "I remember, 'yes, your highness, yes your highness,' and he was talking to him about me," he said. He believes the other man, who he never met, to be a royal.
Sharbi agreed to go back to the US and then discussed details with the religious figure. He never made the trip, however, for reasons not described in the transcript. In the summer of 2001, he instead went to Afghanistan to train at an Al-Qaeda camp and later to Pakistan, where he learned how to make explosive devices, according to a US official. He was captured in a house with Abu Zubaydah, another person currently held in Guantanamo, who the US regards as an Al-Qaeda facilitator.
During the June conversation with the board, Sharbi was apparently ill. He complained of feeling "really exhausted, and nauseous and lethargic," and used what is described as a "manual breathing device."
His state of health indicates that the story he tells was not invented, Max Abrahms, an assistant political science professor at Northeastern University who researches terrorism, told AP.
"He is very open that he is really struggling physically, that he's exhausted, that he has been under serious medication," Abrahms said. "But on the other hand, it lends additional credibility to his statement because it's not very deliberate and not memorized."
Saudi Arabia denied having any ties with the September 2001 terrorist attacks. US investigations found no definitive evidence of such involvement. Speculation to the contrary, however, persists based on the fact that most of the 9/11 hijackers were Saudis, and due to the country's ultraconservative religious nature.
The US House last week passed legislation that would allow the families of 9/11 victims to sue Saudi Arabia for damages related to them. The move was condemned by Riyadh and its Gulf allies.
The House of Saud includes thousands of members related to Muhammad bin Saud, the founder of the first Saudi state in the 19th century. The current royal family is dominated by descendants of King Abdulaziz ibn Saud, founder of modern Saudi Arabia.
You can share this story on social media: