German migration watchdog accused of failure to detect fake refugee passports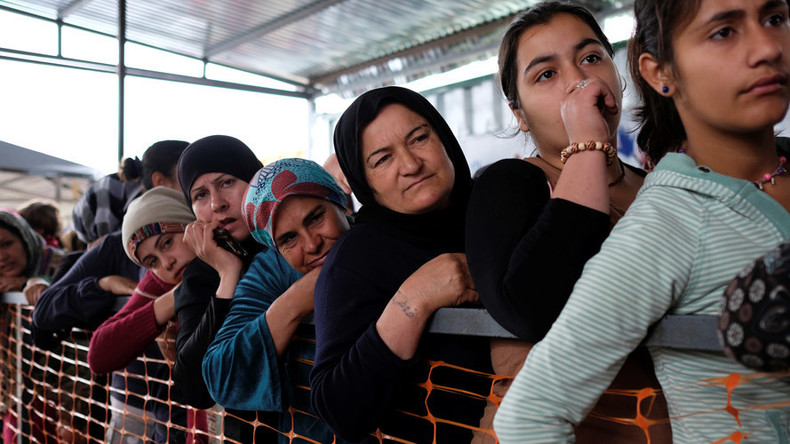 German regional authorities have accused the Federal Office for Migration and Refugees of serious security flaws after it was revealed that some of the refugee passports the watchdog considered valid turned out to be counterfeit.
Selective ID checks of refugees who were previously properly registered by the German Federal Office for Migration and Refugees (BAMF) in two German states revealed that a "significant proportion" of them were fake, German media reported.
In Bavaria, "numerous" refugee passports turned out to be counterfeit after local authorities seized a random sample of refugee documents and checked them, Bavarian Interior Minister Joachim Herrmann told German media, adding that in some cases the identity in the document was inconsistent with that of the document owner.
"I cannot understand why the office, which can easily carefully analyze each and every passport, did not detect these fake passports," he told regional broadcasting station Inforadio RBB, adding that "we cannot accept this given the current situation and security in our country."
Herrmann also stressed that he would raise the issue with federal authorities. "I want to discuss this problem with federal Interior Minister de Maiziere in the coming weeks, because this is simply not acceptable," he said.
In the meantime, RBB reported that in one small Bavarian village alone, Garmisch-Partenkirchen, the investigators seized 19 fake refugee passports. At the same time, the real number of counterfeit documents is much higher, a spokesman for the Bavarian Interior Ministry, Oliver Platzer, said, adding that authorities do not check the refugees' ID in many cases and just rely on data provided by BAMF.
Meanwhile, authorities in another German state, Mecklenburg-Western Pomerania, also launched a massive ID check among refugees. About 3,300 refugee passports are now being re-analyzed by regional authorities. Some 140 of them have already been proven to be counterfeit and the owners of three fake documents are suspected of having links to Islamic State (IS, formerly ISIS/ISIL) terrorist group.
In the German state of Brandenburg, regional public prosecutor, Erado Rautenberg, is now demanding that BAMF hand over 18,000 refugee ID records to the local law enforcement for checks. Rautenberg wants to investigate a number of cases dating back to the end of 2015, when refugees arriving in Brandenburg were not properly identified by police due to "personnel constraints."
"I want to know who is here," Rautenberg told the broadcaster, RBB. "And if something were to happen, I do not want to blame myself for not having done all I could have to prevent it."
The prosecutor already requested corresponding data from BAMF and even personally addressed BAMF head, Frank-Jurgen Weise, asking him to hand over the data. However, BAMF said that Brandenburg Prosecutor's Office has no authority to request such information, adding that it is not obliged to hand over any personal data to law enforcement authorities, as reported by Die Welt.
It also rejected all accusations concerning its failure to detect fake passports. As a result, Rautenberg filed a complaint against BAMF to the court. Brandenburg's Interior Minister Karlheinz Schroeter expressed his support to the prosecutor by saying that his demand was "absolutely legitimate and justified."
"Rautenberg is right when he tries to use every opportunity to confirm refugees' identities for certain," Schroeter told DPA, adding that "if accusations against the BAMF are proven to be true, it would be a very serious issue."
The issue will also be raised at the next German Interior Ministers' conference, Die Welt reported.
The accusations against BAMF come less than a week after three Syrian nationals were arrested in northern Germany on suspicion of having ties with IS and arriving in Germany to carry out a terrorist attack.
Last week, German Interior Minister Thomas de Maiziere told German daily Bild that some 520 people in Germany are capable of committing "unexpected" and potentially "high-profile" terrorist attacks inspired by Islamism, calling the current number of potential terrorists in Germany the highest in history.
The minister also added that the threat is particularly pronounced in terms of foreign hit-teams that came to Germany from abroad.
Earlier, US law enforcement agencies reported that Islamic State terrorists are able to print authentic Syrian passports and have plenty of blanks, adding that fraudulent passports would help terrorist infiltrators pose as refugees from Syria.
German media stressed that it was already well-known that some of the refugees, who arrived in Germany in 2015, had fake passports. German NDR news outlet also draws attention to the fact that most asylum-seekers did not have any documents at all, when they arrived in Germany.
In 2015, Germany accepted more than a million refugees. Up to 300,000 asylum-seekers are expected to arrive in Germany this year, Frank-Jurgen Weise, head of BAMF said last month.