ISIS can print authentic Syrian passports, may infiltrate US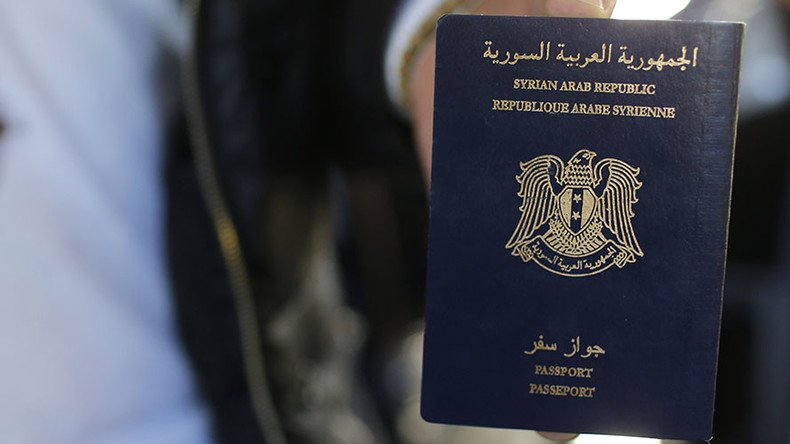 Islamic State has at least one specialized printing machine used to print authentic Syrian passports and plenty of blanks, US law enforcement agencies warned. Fraudulent passports would help terrorist infiltrators pose as refugees from Syria.
The concern that Islamic State (IS, formerly ISIS/ISIL) can print authentic-looking passports was made public by FBI Director James Comey, who testified before the Senate Judiciary Committee on Wednesday.
"The intelligence community is concerned that they [IS] have the ability, the capability to manufacture fraudulent passports, which is a concern in any setting," Comey told the legislators.
The threat was highlighted last week in a 17-page security bulletin sent by the Homeland Security Investigations (HIS) to law enforcement, which said IS procured at least one passport printing machine during a raid on the city of Deir ez-Zour last summer, reported ABC News, which obtained the document.
"Since more than 17 months [have] passed since Raqqa and Deir ez-Zour fell to ISIS, it is possible that individuals from Syria with passports 'issued' in these ISIS controlled cities or who had passport blanks, may have traveled to the US," the report warned.
In his testimony Comey said the FBI didn't "have reason to believe" IS infiltrators were already on US soil, adding the bureau was constantly on the lookout for such agents.
The report mentions an example, in which a Syrian passport discovered in Turkey was printed with a designator number indicating it had been printed in an IS-controlled territory this year.
Fraudulent Syrian passports were used by two suicide bombers involved in the Paris attacks last month. They are believed to have traveled to Europe among the refugees and migrants from Syria, of whom hundreds of thousands have flooded into the continent this year.
Previously, European media covering the refugee crisis reported that obtaining a passport illegally in Syria is very easy. Dutch journalist Harald Doornbos showed in September how he bought a passport with the photo of Prime Minister Mark Rutten. It cost him $825 and took just 40 hours to complete the exchange, he said.
READ MORE: Dutch journalist easily buys fake Syrian passport, says terrorists can do it too
The HIS report said "boxes of blank passports" were captured during the Deir ez-Zour raid.
"If ISIS ability to produce passports is not controlled, their operations will continue to increase and expand outside of their operational controlled areas," the report said.
You can share this story on social media: