Dutch journalist easily buys fake Syrian passport, says terrorists can do it too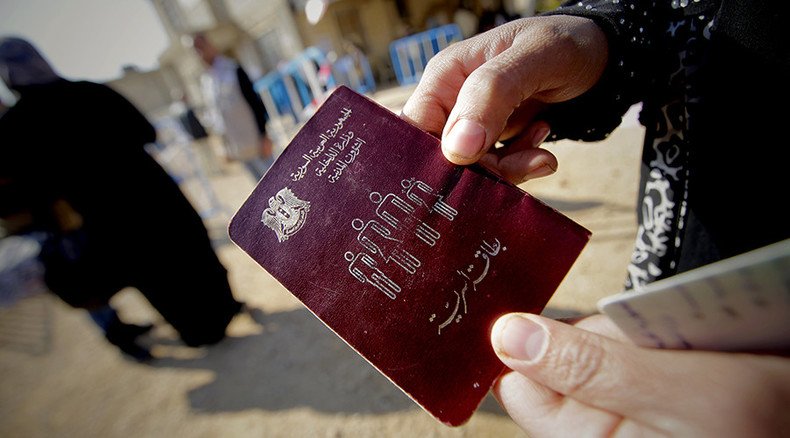 A journalist working for a Dutch magazine had a fake Syrian passport ready for him in less than two days – with the picture of the Prime Minister of the Netherlands printed on it.
Reporter Harald Doornbos who is currently based in Syria and works for the Dutch Nieuwe Revu magazine said anyone – including jihadists and Syrians who have committed crimes against humanity and are banned from entering Europe, can easily do the same.
A forged passport and an ID card cost the journalist US $825, he said on Twitter. He only had to make a phone call to order the fake documents, and was able to pick them up all ready within 40 hours. The man was told he would be able to enter Cyprus with his newly obtained documents.
Both were under the fake name of Malek Ramadan, but had the photograph of the Dutch PM Mark Rutte printed on them. The journalist said it wasn't an initial idea to have the picture of the high-ranking official on the document, he just opted for it when asked to supply a name and a photograph – which only shows you can have pretty much anything printed on "good quality" fake documents.
READ MORE: ISIS fears: Hungary TV report suggests 'militants' posing as refugees cross into Europe

"If we are able to buy a good quality forged Syrian passport, so can Syrian fighters… and jihadists," Doornbos said, concluding that "then it is relatively simple for them to enter the EU unnoticed and commit terrorist attacks."
According to Doornbos's sources, the fighters illegally getting the same fake documents travel from ISIS- and Al-Qaeda-controlled areas in northern Syria to Bodrum in Turkey, and illegally crossing over to Greece from there.
READ MORE: 3,000 ISIS infiltrators may enter Turkey, plan to attack diplomatic targets – report
"In Greece, he shows his false Syrian passport to the authorities. Since the passport is fake, under the fake name, the Greeks have no idea that they are not dealing with a Syrian refugee but a member of ISIS or Al-Qaeda," Nieuwe Revu wrote, adding that from Greece such illegal travelers proceed to Hungary through Macedonia and Serbia, and then "travel without control to the other Schengen States."
Concerns that jihadist fighters could be sneaking in to Europe during the ongoing migrant crisis, disguised as asylum seekers, have grown recently, as tens of thousands of people continue to arrive to Europe from the Middle East, and Syria in particular. Even Pope Francis warned of the danger of ISIS "infiltration" via refugee flows this week, saying that the fighters may take advantage of the situation to slip into EU undetected.
You can share this story on social media: