'American people deserve better': Snowden refutes House report through Twitter outburst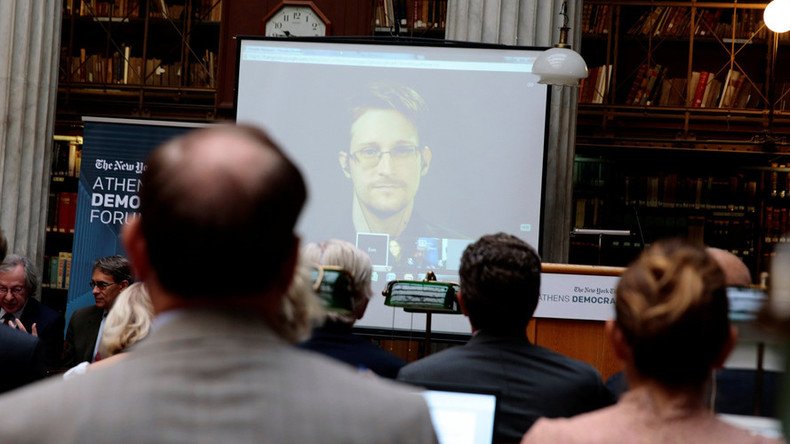 Edward Snowden addressed specific claims of the report by the House Intel Committee, which accused him of lying about his record, cheating on his exams, and becoming a whistleblower due to personal grievances.
The House report "is so artlessly distorted that it would be amusing if it weren't such a serious act of bad faith," said a tweet posted by the fugitive former NSA contractor, who then proceeded to offer "examples."
Snowden, who has been at an undisclosed location in Russia for the past three years, took umbrage at perceived attacks on his personal integrity, such as the assertion that he "claimed to have left Army basic training because of broken legs when in fact he washed out because of shin splints."
"Army held me for weeks in a special unit for convalescence before separation. I left on crutches. They don't do that for 'shin splints,'" wrote the 33-year-old, who volunteered in 2004, saying he wanted to fight in Iraq.
Snowden described as "amazing" the accusation that he had "doctored his performance evaluations and obtained new positions at NSA by exaggerating his resume and stealing the answers to an employment test," likely by searching through data on his colleagues' hard drives.
"I reported an XSS (hacking) vulnerability in CIA annual review system," explains Snowden.
The report also claims that Snowden shared over 1.5 million files, the "vast majority" of which "have nothing to do with programs impacting individual privacy interests – they instead pertain to military, defense and intelligence programs of great interest to America's adversaries." It also states that this began to happen eight months before the 2013 Senate testimony from Director of National Intelligence James Clapper, which purportedly prompted Snowden to go rogue, in disgust at his boss's prevarication.
The whistleblower explains that the number of files and the date pertain to HEARTBEAT, a program Snowden says he "built" to handle data, which "was explicitly authorized by two levels of my management."
"The committee seems to intentionally conflate my authorized government work with my unauthorized whistleblowing. Diminishes them," tweeted Snowden, who says he no longer has private access to any of the documents he leaked.
Snowden also contests the claim that "the deputy chairman of the Russian parliament's defense and security committee publicly conceded that 'Snowden did share intelligence' with his government." Snowden says that the politician in question, Franz Klintsevich, prefaced the statement with "Ya dumayu" ("I think") and was merely expressing an opinion, which the former NSA employee says is "speculation presented as fact."
Snowden says that he "could go on," but instead condemns the report outright, and urges people to watch the Oliver Stone film about his final months at the NSA, and his leak, which comes out this week.
"Bottom line: after 'two years of investigation,' the American people deserve better. This report diminishes the committee," tweeted Snowden.
The report also painted him as a "serial exaggerator and fabricator" who decided to lash out against his colleagues following a "workplace spat," after he was reprimanded multiple times and failed to pass yearly NSA tests, which he claimed were "rigged." Snowden said his legitimate complaints were punished by superiors.
Snowden has publicly asked for a full presidential pardon, in the past week, citing concern for ordinary spied-on Americans as his motive, but according to the House, his actions made him a "traitor."
"The US Government has spent hundreds of millions of dollars and will eventually spend billions, to attempt to mitigate the damage Snowden caused," said the authors, who have published a three-page summary of the classified document, which runs to 36 pages.
You can share this story on social media: