Graves appear in Syria-Jordan desert as 75,000+ refugees left stranded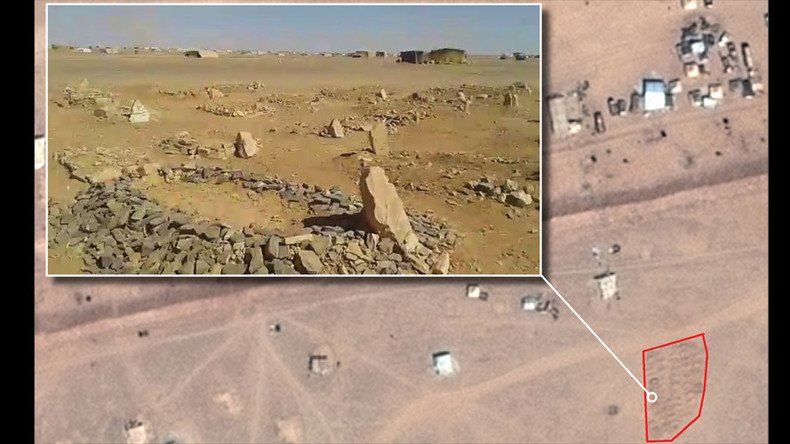 Rampant hunger and disease are slowly killing 75,000 refugees stranded in no-man's-land between Syria and Jordan. Video and satellite footage of makeshift graves posted by Amnesty International paints a grim picture of inaction.
The information was obtained by Amnesty from the Tribal Council of Palmyra and Badia, which has activists in the area nearby, known as 'the berm.' The accounts were then verified independently with satellite footage and the report was published on Thursday.
Here, the makeshift graves are seen up close, situated near a camp by the Rukban border crossing.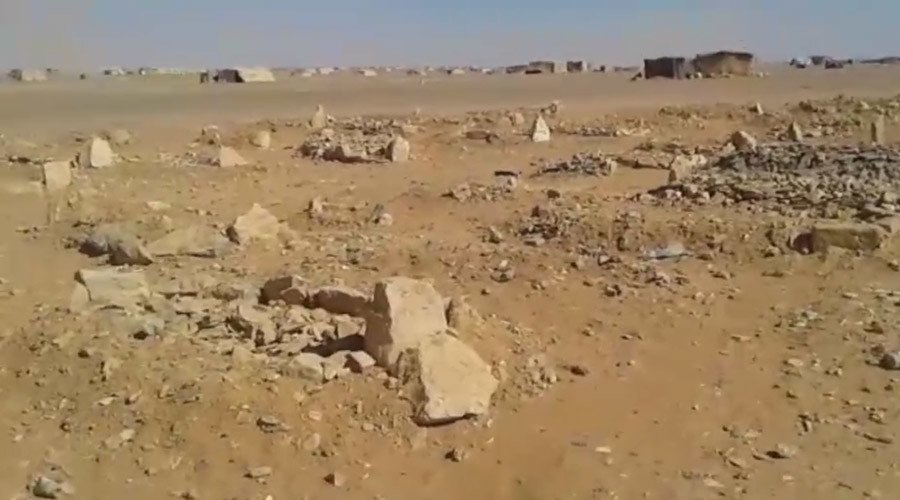 Another, smaller camp, is situated at Hadalat.
Dozens of graves appear as burial mounds at the two makeshift graveyard sites photographed. Because access to the area is being controlled by the authorities for security reasons, no real data on the number of deaths exists.
Infectious disease is rampant, even the treatable kind. It is only known that, since June, the number one killer there – hepatitis – has claimed at least 10 lives, most of them children. At least nine childbirth-related deaths were also reported.
"The situation at the berm offers a grim snapshot of the consequences of the world's abject failure to share responsibility for the global refugee crisis. The knock-on effect of this failure has seen many of Syria's neighbours close their borders to refugees," Crisis Response Director at Amnesty International, Tirana Hassan, said.
"It's a desperate picture for people trapped at the berm, food is running out and disease is rife. In some cases people are suffering or even dying from preventable illnesses, simply because they are not allowed into Jordan and the authorities have blocked access for aid, medical treatment and a meaningful humanitarian response."
Jordan, which has population of 6.5 million, is overstretched as it is, with 650,000 refugees. Neighboring Lebanon, with a population of less than 4.5 million, has upwards of 1 million refugees since the end of 2015, but aid agencies are speculating that the number could be much higher. And then there is Turkey, which has accepted by far the biggest number of refugees – 2.7 million, as of March 2016, according to official statistics.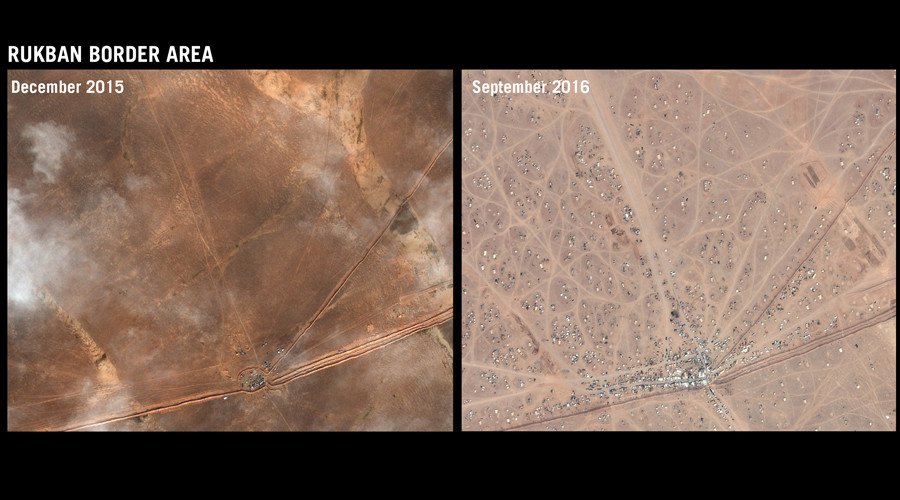 Jordan and Lebanon can't continue to take in refugees indefinitely.
Lebanon is now off-limits, and the Jordanians have sealed two border crossings following an attack on June 21, which killed seven of their border guards. Since then, the only food making it to the berm comes from air drops by NGOs barred from entering the area.
READ MORE: Syria ceasefire begins, Damascus says will last 7 days
Some have been living in these conditions for months. Abu Mohamed, who stays at the camp near the Rukban border crossing, tells Amnesty that the "humanitarian situation is very bad."
"Many people have died," he said. "The mood among the people in Rukban is below zero."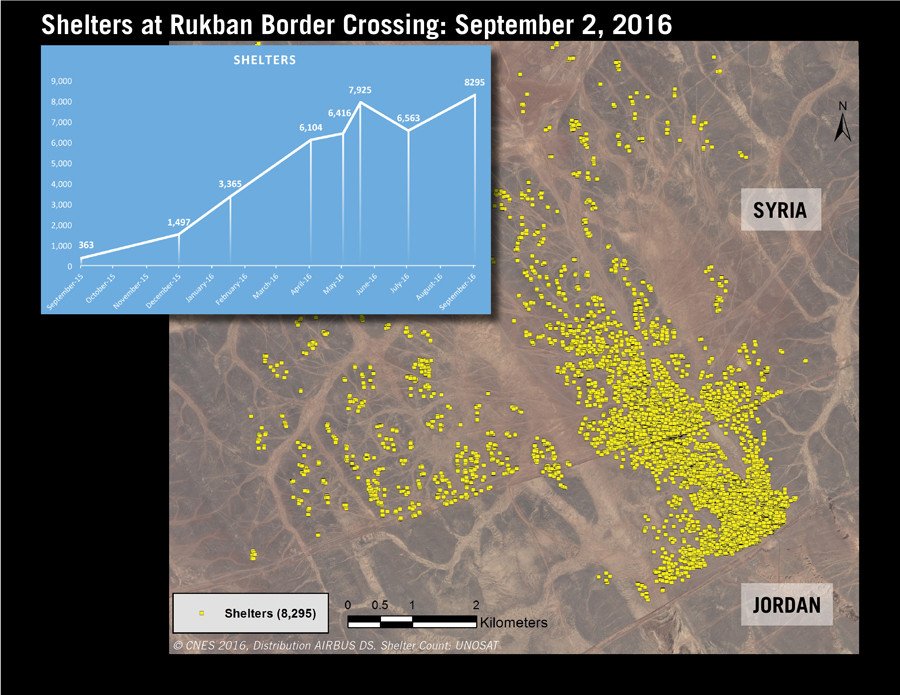 Compounding the situation with food is the absolute lack of medical care, threatening both the weak and the unborn children of the pregnant women in the camp.
READ MORE: Western leaders support terror groups in Syria, get extremism at home – Assad
The problem only continues to grow, with accompanying satellite images obtained by Amnesty showing population density in the camps gaining dramatically since October 2015.
For instance, the number of shelters at Rukban had risen from 368 a year ago to 6,563 in late July, 2016. By September of this year, it had grown by nearly another 2,000 shelters. This shows not just growth, but expedited growth. Amnesty ties this to the worsening situation in Syria.
What's worse, everyone wants a pick of the refugees to serve their interests. The allies want them as spies, while Islamic State seeks to replenish its ranks with new terrorists. So much so that the Jordanian Minister of State for Media Affairs, Mohammed al-Momami, told Amnesty the area has become a "Daesh enclave."
You can share this story on social media: