Western leaders support terror groups in Syria, get extremism at home – Assad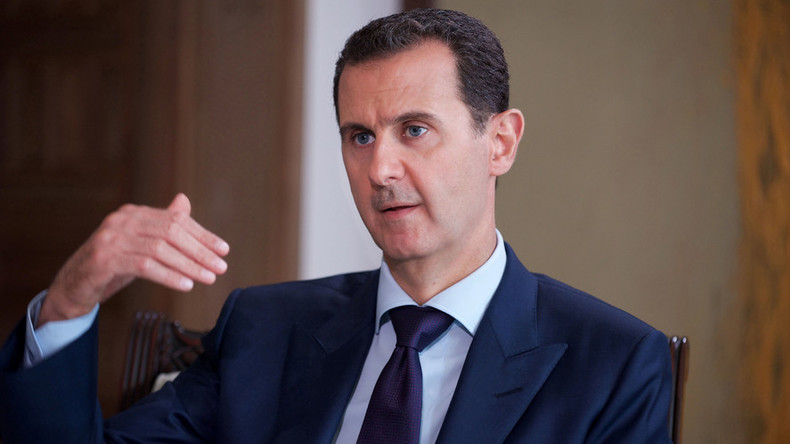 Terrorist attacks, an unprecedented refugee influx and other problems with which Europe is struggling to cope are the result of wrong decisions made by European leaders, Syria's president Bashar Assad told a European Parliament delegation.
"The situation in Syria and the whole region naturally affects Europe a lot due to its location and social ties. The problems Europe faces today of terrorism, extremism and waves of refugees are caused by some western leaders' adoption of policies which do not serve their people," Assad told the delegation headed by Javier Couso, Vice Chairman of the foreign affairs committee of the European Parliament, who had been visiting Damascus, Syrian state news agency SANA reported.
This is especially true "when those leaders give support and political cover to terrorist groups inside Syria," the president added.
He stressed the role that the European Parliament should play in fixing the policies of some of European countries which had let terrorism evolve. Economic sanctions imposed against Damascus have impacted the Syrian people, who were forced to leave their homeland, Assad also said.
Couso noted that the delegation is planning to take steps that would help change western countries' rhetoric and will call for the lifting of sanctions, which he described as "unfair".
He promised to "inform the Europeans on the real state of affairs in Syria and on how people suffer from terrorism," the report said.
READ MORE: Western officials criticize Damascus in public but secretly deal in private not to upset US – Assad
Syria plunged into chaos in 2011, when public protests escalated into an armed uprising as foreign powers warned the Assad government against cracking down on the protest. As violence expanded, radical groups and criminal gangs hijacked the process, turning Syria into the bloodiest battle zone of the modern world.
Foreign nations opposing Damascus, including Turkey, Saudi Arabia, Jordan, the United States and the United Kingdom, have been providing various Syrian opposition groups with aid, saying that only by supporting armed groups trying to topple the Syrian government can the conflict be stopped.
The US and other western countries aided so-called 'moderate rebels' in Syria with weapons and training, saying this would help them defeat both the Syrian army and terrorist organizations, which capitalized on the turmoil in Syria. The effort led to some embarrassing moments, for instance when the initial training program for the moderates produced only a handful of fighters after months of recruiting.
Saudi Arabia and Qatar are among the key providers of Syrian rebel groups with military and financial assistance, including some powerful Islamist groups seeking to turn Syria into a country governed by the Sharia law.
Turkey, which was hit most among Syria's neighbors by the refugee crisis, hosting almost two million asylum seekers, is among the vocal opponents of Damascus too. Critics accuse Ankara of turning a blind eye on rebel activities in its territory, including recruiting, arms shipments and getting medical assistance.
Jihadists from terrorist groups like Islamic State and Al-Nusra Front are among those benefiting from such policies. IS staged a number of bloody terrorist attacks in Turkey since its rise to power in Iraq and Syria, killing hundreds of people. The organization also claimed responsibility for several high-profile attacks in Europe and the US.
The European delegation arrived in Damascus on Saturday. The group visited refugee center in the Syrian capital and met soldiers undergoing treatment in the Hamish hospital.
You can share this story on social media: