Syria ceasefire violated 23 times by opposition forces – Russian military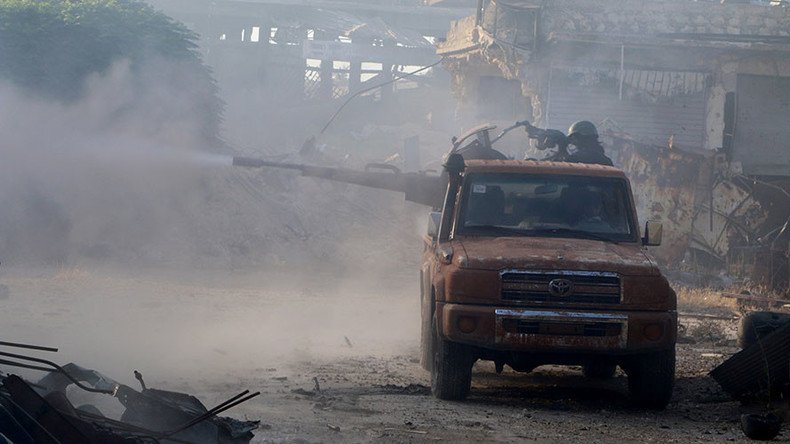 The so-called moderate rebel forces in Syria have violated the nationwide ceasefire on 23 occasions since it was put in place on Monday, the Russian military says. Six people died in Aleppo overnight while 10 others have been wounded.
The Syrian government is abiding by the ceasefire, Russian General Staff official Viktor Poznikhir said.
"Syrian government forces have completely stopped [their] shelling, except for the areas occupied by ISIS [Islamic State/IS] and Jabhat al-Nusra militants. Unfortunately that can't be said about the armed forces of the moderate opposition, backed by the United States," he said.
US-backed rebel forces have shelled residential areas as well as Syrian Army positions, according to the Russian General Staff.
Six people died on Monday night following the shelling of Aleppo by the moderate opposition forces, with 10 others receiving injuries, Colonel Sergey Kopytsin from the Russian Reconciliation Center in Syria said Tuesday.
"Five violations of the cessation of hostilities by the 'moderate opposition' in the city of Aleppo, which killed six and injured 10 people, were registered overnight following the introduction of the ceasefire," Kopytsin said.
He added that late Monday positions of the Republican Guard of the Syrian Army were targeted by sniper fire in Aleppo. Mortar fire has also hit residential areas in the district of al-Ansari while positions of the Syrian military in the same district were targeted by guided anti-tank missiles, according to the Russian military.
Moscow has called on the Syrian government not to respond to provocations threatening the cessation of hostilities.
"I ask everyone not to succumb to provocations, to carefully record all possible violations and send the data to the Russian Reconciliation Center," Poznikhir stated.
The Russian Reconciliation Center says that Syrian government forces are ready to create a demilitarized zone around the Castello road near Aleppo. The area is one of the key paths for humanitarian aid deliveries for the remaining civilian population of Aleppo.
"The [Syrian] government forces are ready to withdraw their troops simultaneously with the rebels and create a demilitarized zone around the Castello road, starting from 9am on September 15."
A Russian and a Syrian officer came under fire near the Castello road on Tuesday while participating in a video conference with the Russian Defense Ministry. Both remained unhurt, according to the Russian military.
The 48-hour ceasefire in Syria brokered by Russia and the US came into effect on Monday at 7pm Damascus time (16:00 GMT). The Syrian Army later announced it will abide by an even longer term of seven days.
The ceasefire is part of a broader peace plan agreed by Russian Foreign Minister Sergey Lavrov and his US counterpart, John Kerry, last Friday in Geneva.
You can share this story on social media: