Sick Clinton can't be trusted with nukes – Russian nationalist party leader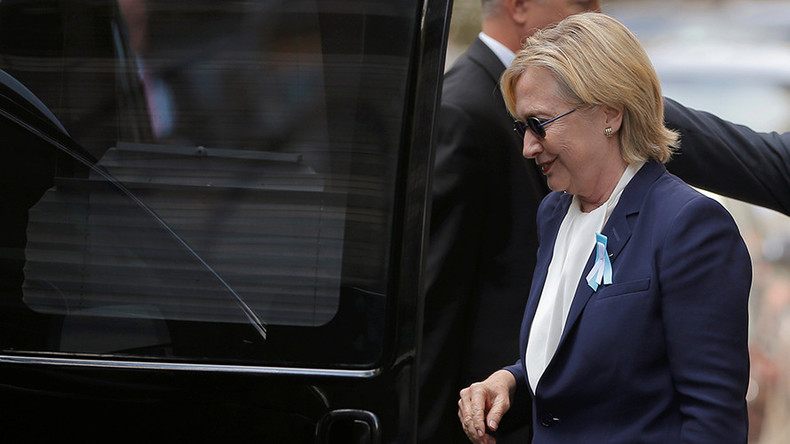 Democratic presidential nominee Hillary Clinton would pose a danger to the world if elected US leader as her health issues could undermine her decisions, including choices regarding nuclear bombings, says the head of the Russian Liberal Democrats.
It is vitally important for a nuclear power such as the US to have a healthy leader who is fully aware of their actions, the head of the populist-nationalist Russian LDPR party, Vladimir Zhirinovsky, said during a live broadcast on Russian TV.
In his opinion, should Hillary Clinton win the election and gain access to US nuclear capabilities, she would put the whole world at risk due to her health issues.
"She may get the right to push the nuclear button. She could push the wrong button! And what is to be with America then?" Zhirinovsky asked.
"That's okay when she coughs or sneezes. But she blacks out in the middle of a work day!" Zhirinovsky noted, adding that a person with this kind of health condition cannot be trusted with any kind of work, let alone serving as the president of the United States.
"That's a fateful moment," Zhirinovsky said, referring to the incident with Clinton at a 9/11 memorial ceremony on Sunday. "Now Trump has everything he needs to grab the victory. And that would be a victory for America, because he won't let America get involved in a third world war with nuclear weapons. Clinton could have dragged the US and the whole world into this hideous war," the veteran nationalist party leader stated.
"What if she faces a decision: to bomb or not to bomb? And at that time she suffers a seizure and faints?.. Clinton is a relic of the past," Zhirinovsky said.
READ MORE: Trump says health will be an election issue after Clinton falls ill at 9/11 memorial
"We feel for her. That's [her health] a sensitive matter. But a head of state can't hide [their] health condition," the politician concluded.
Democratic candidate Clinton was diagnosed with pneumonia, according to her personal doctor, and has cancelled a number of campaign tour events.
Thanks to everyone who's reached out with well wishes! I'm feeling fine and getting better. -H

— Hillary Clinton (@HillaryClinton) September 12, 2016
Republican nominee Donald Trump wished his presidential rival well – not forgetting to add however that he is in the best of health and promising to release his medical records with "very, very specific numbers."