133 killed, 395 missing, 107K displaced in N. Korean flooding – UN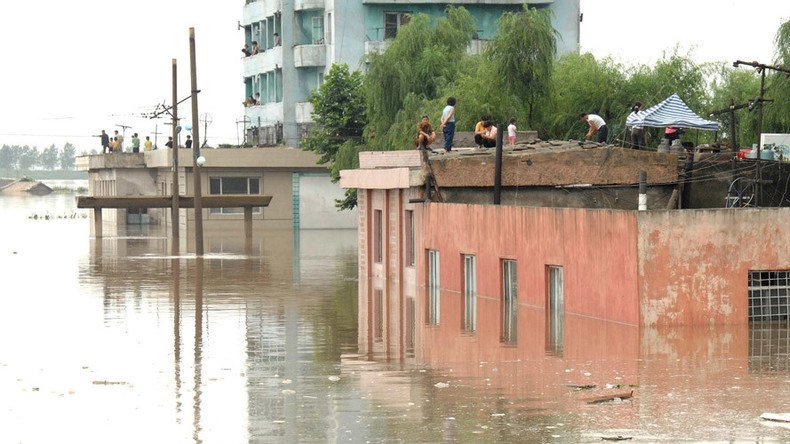 Severe flooding in North Korea has led to the deaths of 133 people, with 395 reported missing, according to the UN. More than 100,000 have been forced to flee their homes.
Some 107,000 people have been displaced in the area along the Tumen River, the UN Office for the Coordination of Humanitarian Affairs (OCHA) said in a statement, citing figures from Pyongyang.
The official KCNA news agency reported on Sunday that the flooding in the country's northeast has led to "great hardship." A labor campaign designed to bolster the nation's economy has been shifted to "direct all efforts to the construction of dwelling houses to provide flood-hit people with warm cradles and turn the flood-battered region into a fairyland in the era of the Workers' party within this year," the agency reported, quoting the country's Central Committee.
An address published in the country's official state media has called on all citizens to take part in the recovery work, TASS reported, stating that "all the human, material, and technical resources of the country have been mobilized."
Workers from the International Red Cross and Red Crescent are reportedly taking part in humanitarian efforts, distributing aid to those in the worst-hit areas.
Damage from the flooding is widespread, with 35,500 houses affected, 69 percent of which have been completely destroyed, OCHA said in a Sunday statement. Some 8,700 public buildings have also been damaged.
Around 16,000 hectares (39,540 acres) of farmland has been affected, and at least 140,000 people are in need of urgent help, the UN office said.
KCNA also reported that railways, roads, power supplies, and factories have also been destroyed or submerged.
The North Korean meteorological department announced that the flooding was "the most devastating natural disaster since the liberation of Korea in 1945."
North Korea is vulnerable to natural disasters, particularly flooding, as its territory is mostly composed of mountains and hills that have been stripped bare for fuel or turned into rice fields. This allows rainwater to freely flow downhill.
At least 169 people were killed by a severe rainstorm in 2012, and a series of floods and droughts were partly responsible for a famine that killed hundreds of thousands between 1994 and 1998.
You can share this story on social media: