Flying cake: German far-left activist 'slightly' injures leader of anti-immigrant party (VIDEO)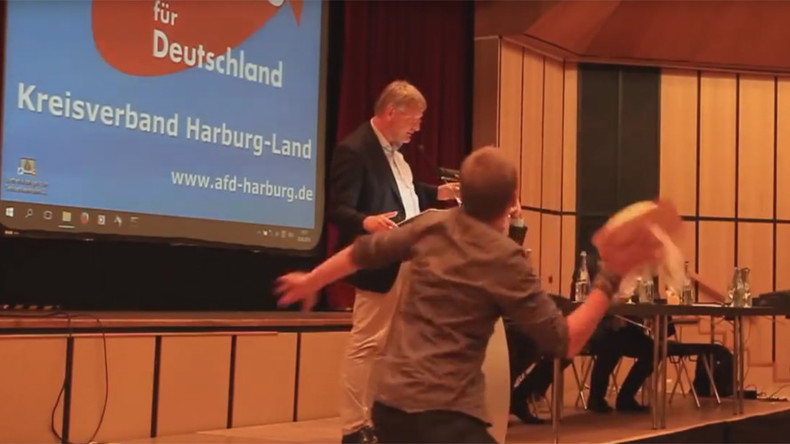 A co-leader of anti-migrant party Alternative for Germany (AfD) has been struck on the head by a frozen cake flung by a far-left activist, a video released on YouTube shows. The politician claims the cake-throwing was "dangerous" and "well-organized."
The incident took place as the AfD's Jörg Meuthen was giving a speech in Harburg, Lower Saxony, on Monday.
The video captures the moment a young man approaches the politician with a cake (which was apparently frozen) and threw it right at Meuthen's head.
READ MORE: Germany's anti-immigrant AfD becoming a force with young, unemployed males – study
The politician was "slightly injured in the head," police later said in a report, adding that after receiving medical care, Meuthen was able to continue his speech.
The perpetrator caught at the scene was identified by police as a 17-year-old far-left activist. He is now accused of attempted serious bodily harm.
The officers later arrested six more people who were shouting slogans during the AfD event: a woman and five men, all aged 18 except for a 22-year-old male.
Meuthen lamented the attack as "cowardly and dangerous" adding "it had been well organized."
"I was lucky that the assailant didn't properly hit me, otherwise I would most certainly be lying in hospital right now," he said, as cited by N-TV broadcaster.
READ MORE: German AfD branded 'Nazis' after it says Islam is 'unconstitutional'
The AfD was founded in 2013 by Economics Professor Bernd Lucke and initially stood against the EU's single currency, but for Germany's EU membership. In 2015, however, it saw a leader and ideology change with chemist and businesswoman Frauke Petry coming to power by winning public support with her anti-immigrant rhetoric.
Critics accuse AfD of playing the xenophobic card and preying on people's fears. The Council of Muslims in Germany has compared the party's ideas to Nazi ideology. Still, the AfD won elections in three regions recently.
Meuthen is not the first AfD member to cop a cake in the face. In February two activists in clown costumes disrupted a meeting of the AfD by throwing a cake into the face of Beatrix von Storch, one of the party's leaders and a member of the European Parliament.