Germany's anti-immigrant AfD becoming a force with young, unemployed males – study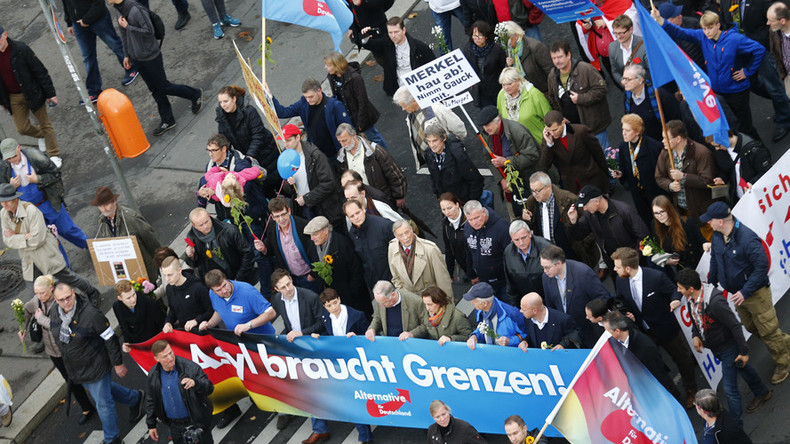 Despite being only three years old, the anti-Islamization, anti-EU and anti-immigration Alternative for Germany (AfD) is entrenching its popularity with voters, and should make it into the Bundestag next year, a large new study has shown.
The German Institute for Economic Research and Humboldt University examined interviews with over 40,000 people, opinion polls and qualitative surveys, to establish whether the controversial party, which breaks numerous taboos of mainstream German politics, is a flash in the pan, or has a long-term future.
The answer appears to be the latter.
The party is currently polling at about 10 percent around the country, vying for third place with the Greens, behind the two main centrist parties. It has already been elected to three regional assemblies, including scoring a spectacular 24 percent in the former East German province of Saxony-Anhalt.
In Germany's proportional representation system, it only needs to pass the 5 percent threshold to be elected to the Bundestag, with a vote likely to be called for autumn 2017.
It has done this by undergoing a rapid transformation. Its initial manifesto was endorsed by a group of academics and journalists, and was squarely focused on Europe, and the mismanagement of the common currency.
But AfD has rapidly expanded its appeal, by striking a chord with disaffected and disadvantaged voters, helped by ongoing financial struggles in the Eurozone, and the influx of over 1 million migrants in the past two years.
The study, conducted in 16,000 households, showed that around half of AfD voters had no party allegiance before opting for the new far-right movement. The other half come mostly from center-right and far-right parties, including the nationalist NPD, which was founded more than 50 years ago.
The typical profile of the current AfD voter is male – more than two-thirds of its supporters are men – and living in East Germany, where the party is four times as popular as in former West Germany. The AfD supporter is also much more likely to be under 30, unemployed, and with a below-average level of education. They are also more likely to be dissatisfied with the state of democracy in the country.
"This study shows that we are well on the way to becoming the party of the common man," said Georg Pazderski, a member of the AfD senior leadership.
The next test for the movement will be the local elections in Berlin, where mainstream politicians have sounded dire warnings about giving the vote to the party, but where pollsters are saying that the AfD may outperform its current 15 percent poll numbers, thanks to 'shy voters'.