'I quench your toxic fires': Swedish firefighter pens open letter to slam car arsonists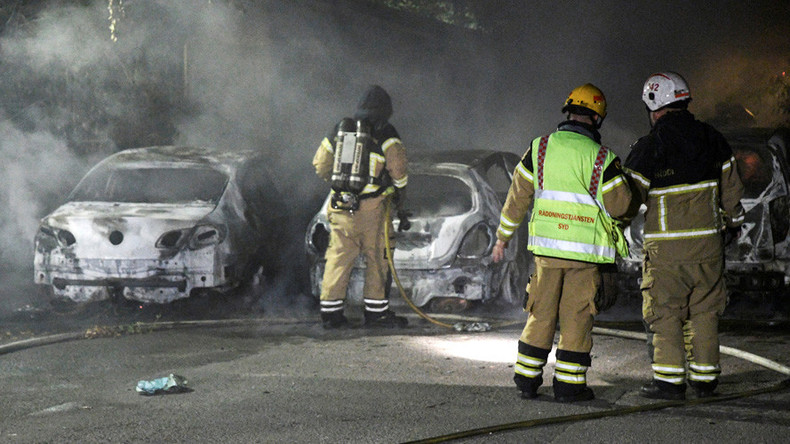 A Swedish firefighter who for months has been putting out cars set on fire by arsonist has addressed the rioters in an outraged open letter. Calling the reasoning of the troubled district-dwellers "bulls**t," he goes on to tell his own, "tougher," life story.
"I work as a fireman, and I want to help you understand what it means. 'Fireman' is a job title for a person who works to save lives. Possibly "lifesaver" would be a more fitting title. We don't only extinguish fires. We also start hearts that stopped. We give air to those who stopped breathing. We swim after the drowned," reads the letter from firefighter Kaj Engelke, published by local media outlet Sydsvenskan.

Then he went on to say that firefighters don't only save lives, but they are also ordinary people with traits that the perpetrators themselves can relate to.

"We are someone's child. We are someone's mother and father. We are brothers and sisters. We are people, just like you. As humans, we have the right to the same things as you. We have, for example, the right to security and health. We have the right to live free and we have a right to think what we like about things. We also have obligations, just like you. We are obliged to behave in such a way that injury isn't caused to someone else."
However, at this point, he fully lashes out at the arsonists, saying that by setting a car on fire, the arsonists "hurt the community" and damage firefighters' health.

"You poison me with carcinogenic gases, I devote my professional life to save your lives. Do you think that's fair?"

As for the reasons arsonists give to justify their actions, Engelke say that the firefighters "don't buy their bulls**t."

"Do you think I have only myself to blame for your behavior and it is only a result of a society that is not taken care of you? Then I'll tell you something. I grew up tougher than you. My childhood was hell. It was insecurity, ill health, fear, violence and no money. It was, in your view, a lot of good excuses to use in order not to take responsibility."
READ MORE: Fierce blaze devastates Norway refugee shelter amid record migrant influx (VIDEO)
However, he and his colleagues coped with the hardships, and are helping others to do that, too.

"While you choose to poison us, we do everything we can to help this community, so that more people can have what we have. So that you can have what we have. You are working to extinguish my life. But if your life is extinguished, I will light it again."
The firefighter's open letter was shared widely in social media, and he said that the feedback was "overwhelming," The Local said.

"People have called me and thanked me for sharing my thoughts and have told me it's great that I'm doing it."

Engelke said that he was really driven to pen the letter after seeing his colleagues suffer due to the arsons.

"I've had colleagues who have died of cancer. I have a colleague who coughed blood when we were training recently after he and I got covered in a big smoke cloud," he told the news agency TT.

"We weren't the ones putting out the fires; that was the smoke divers, who have full breathing protection and all that. But sometimes the wind moves in strange ways," he added.

Since July, at least 70 cars have been set on fire in the Swedish city of Malmo, and car blazes were reported elsewhere across Sweden, including Stockholm and Gothenburg.
READ MORE: Sweden's 3rd largest city hit by multiple blasts, police plead for help to tackle violence spike