Fire in Bavarian refugee center causes €100,000 in damage (VIDEO)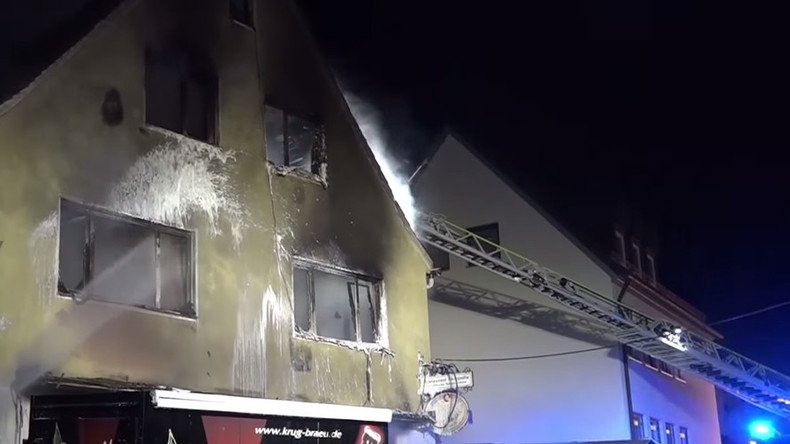 A refugee home that caught fire overnight in the municipality of Goessweinstein in the Forchheim district of Bavaria in southern Germany burned to the ground. Luckily, no one was injured in the blaze, which caused about €100,000 worth of damage.
Eight refugees living in the two-story house managed to exit the building through a closed restaurant located on the ground floor before police and firefighters arrived.
Around 200 firefighters were dispatched to the scene shortly after 1:00 am local time to prevent the fire from spreading to nearby buildings.
A video shows the house fully engulfed in flames with its roof and walls burning and its windows broken.
Police found no evidence of a hate crime, though this possibility is being looked into, according to DPA news agency.
At noon on Saturday, the site was visited by investigators with service dogs who found it difficult to even establish in which room the fire had started, as the house was completely destroyed.
According to a preliminary estimate made by police, damage to the building amounts to around €100,000 euros ($115,000).
Arsons at refugee centers and other migrant facilities have become quite common in Germany and other European countries, including Sweden and Norway. According to a recent police report, refugee shelters in Germany have already been targeted more than 650 times in 2016, and most of those attacks have "clearly" been carried out by far-right activists.
In February, a refugee center planned for the city of Bautzen, Saxony, was set ablaze to the delight of a crowd, which cheered and tried to prevent firefighters from putting the fire out.
You can share this story on social media: