Syringes, bats & drills: Alleged ISIS clip tells 'lone wolves' to use household items to attack West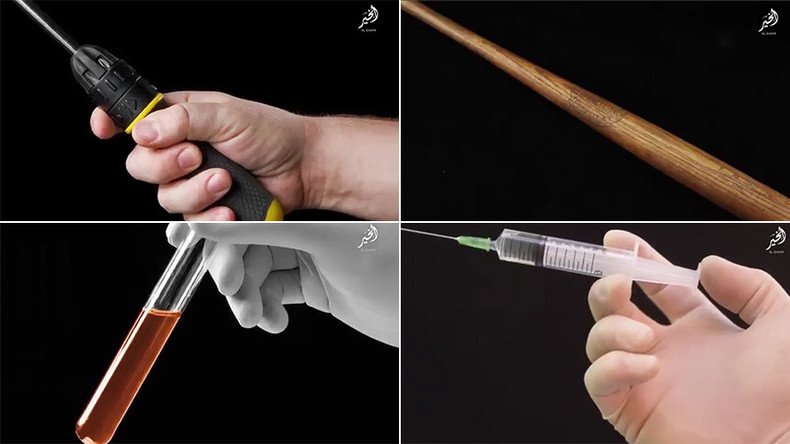 The latest propaganda video allegedly shot by Islamic State (IS, ISIS/ISIL) calls for its followers to use everyday items to carry out jihad, specifically singling out the US and France as future targets.
Ostensibly produced in Wilayat Al Khayr, an IS-occupied city in eastern Syria, the 19-minute Arab-language video is called 'Defend Your State,' and appeared through social media channels said to be used by IS.
The alleged IS propaganda clip begins by whipping up anger against bombardments by the US-led coalition and Russia of territory controlled by the terrorist group. There are several close-ups of dead children, supposedly killed by the "infidels."
The slickly put-together video then highlights a roll call of recent "martyrs." Those include Mohamed Lahouaiej-Bouhlelhel, whose truck rampage resulted in the deaths of 86 people following an attack on Nice last month, and Aaron Driver, a failed white Canadian suicide bomber, who was shot dead by Toronto police on August 10, and left a video in which he pledged allegiance to the Islamist group.
It next moves to a list of prominent symbolic targets, which include the Eiffel Tower in Paris, the Leaning Tower of Pisa, and the Statue of Liberty in New York.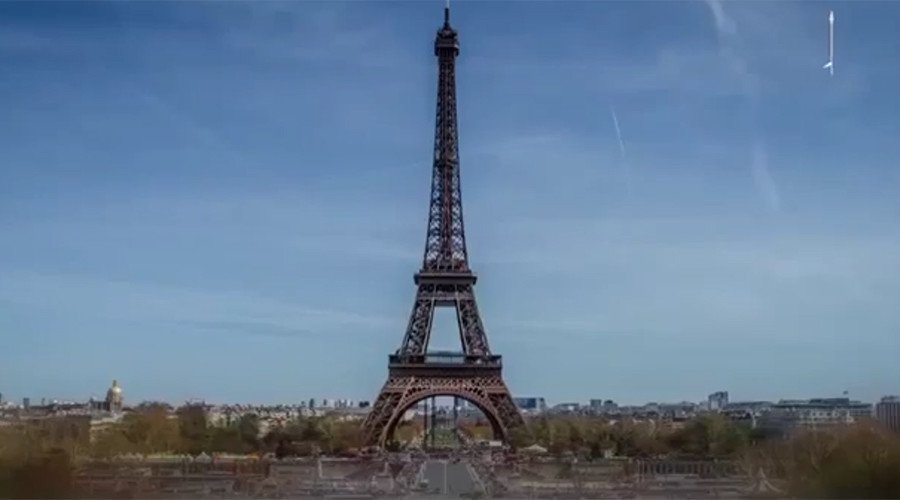 Recruits are instructed to use "any means available" and a montage flashes by, featuring a homemade rifle, a power screwdriver, a baseball bat, a contaminant in a test tube, and a syringe filled with a potentially dangerous substance.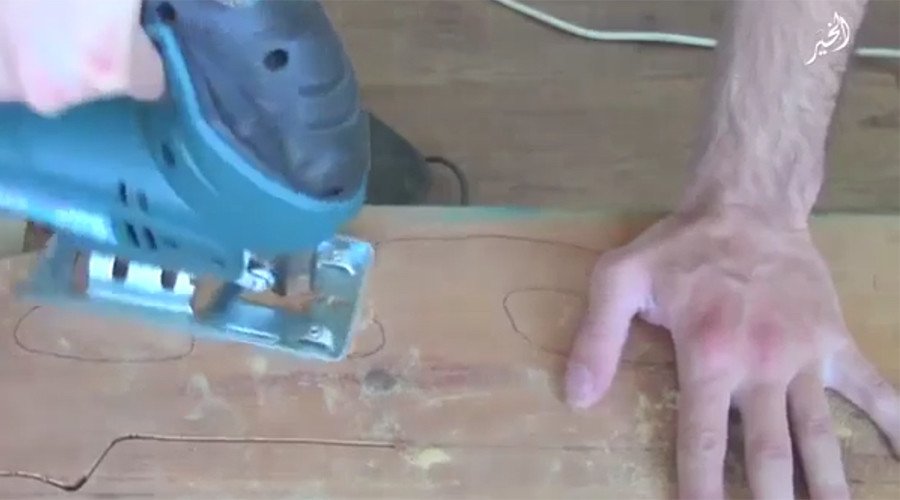 The video also features a staged sequence of a man wearing a menacing black rucksack approaching a French diplomatic mission.
While many of the aspects of the propaganda reel – including footage of casualties of the 9/11 attacks jumping from the World Trade Center – are staples of Islamic State videography, they are also indicative of the current state of the radical Sunni jihadist group.
IS has suffered an unprecedented series of military reversals in recent months, being pushed back by both the Iraqi army, and a Kurdish-led offensive in Syria, both enjoying heavy aerial support.
The group has lost control of Fallujah and Ramadi in Iraq, Palmyra in Syria, and Sirte in Libya. US officials say that 45,000 ISIS fighters have either been killed or have fled in recent months, and the group is down to a core of only 15,000 militants.
Last month, FBI Director James Comey warned that the backlash would be more terrorist attacks in the West to shore up the image of the organization, and indeed Islamic State seems to be moving toward a more asymmetrical confrontation with its ideological enemies.
Security agencies estimate that at least 1,700 French citizens and 800 Brits left Europe to volunteer for the group. It is unclear how many of them are still alive and will be able to find their way home.
But even without recruits hardened in the battlefields, Islamic State has been able to rely on seemingly maladjusted European and US residents to carry out its jihad in a string of high-profile attacks.
France has been worst-affected with over 220 deaths since the beginning of last year, the latest coming a month ago, when two men with knives executed two people, including an elderly Catholic priest in Saint-Etienne-du-Rouvray, in Normandy.
An Algerian man armed with a machete also unsuccessfully attempted to attack two policewomen in Charleroi in Belgium on August 6, and was shot dead.
The new video also shows increasing competition for recruits among the radical groups.
The latest clip emphasizes a quote by the Palestinian organization Hamas, in which it condemned the Nice attacks, and paints ISIS as the more decisive alternative.
But for all the posturing, perhaps one of the most disturbing trends is the rising use of children to carry out suicide missions, due to their suggestibility, and the lack of senior fighters. Sunday's bombing of a wedding in Gaziantep in Turkey, which resulted in over 50 deaths, was reportedly carried out by a child aged 14 or under.
You can share this story on social media: