Canadian police kill white suicide bomber suspect near Toronto – reports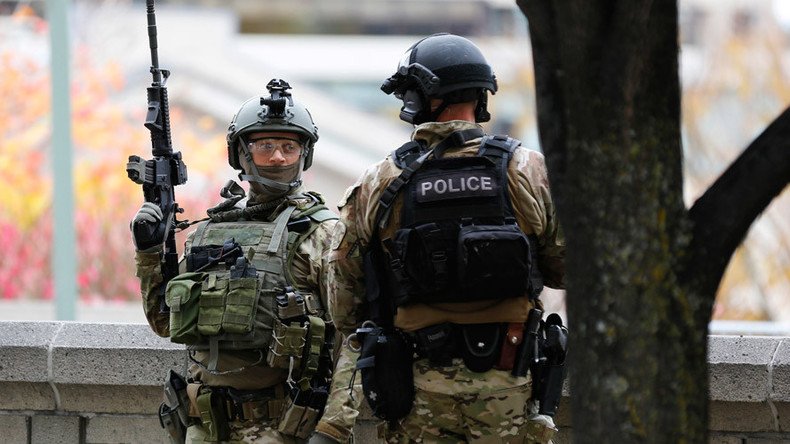 Canadian police reportedly killed a lone suspect in a major anti-terrorist takedown operation on Wednesday. The suspect was linked to Islamic State and believed to be behind a suicide bomb plot on a major Canadian city.
The suspect was identified as Aaron Driver, 24, according to Canadian media.
Driver was killed during a dramatic Royal Canadian Mounted Police operation in the southern Ontario town of Strathroy, which is located around 225 kilometers (140 miles) west of Toronto.
The suspect, who was well known to Canadian intelligence and police as an Islamic State sympathizer, died inside a house on Wednesday.
Police said that Driver was likely acting alone and that there was no longer a threat to public's safety.
Canadian media reported that he likely wanted to target a busy public area in Toronto with an IED to cause massive casualties.
Witnesses described hearing blasts and gunshots coming from the house during the operation, CTV News reported. SWAT teams, a bomb squad, the RCMP and Canada's military special operations forces were all spotted at the scene.
Police were aware that in the past Driver tweeted his support of Islamic State as well as celebrated the 2014 attack on Parliament Hill. He also spoke out encouraging attacks against the Canadian police and military.
Driver was even arrested in June 2015 and later agreed to a peace bond in a Winnipeg court, which stated that Driver was "consenting or acknowledging that there are reasonable grounds to fear that he may participate, contribute — directly or indirectly — in the activity of a terrorist group."
The bond also forced Driver to live in a specified location in Strathroy and keep the RCMP informed of any future address changes.
Earlier in the day, the RCMP issued a statement, stating that they had thwarted a potential terrorist attack on a major Canadian city.
"The RCMP received credible information of a potential terrorist threat. A suspect was identified and the proper course of action has been taken to ensure that there is no danger to the public's safety," the statement said.
The RCMP provided few details on the incident, stating that investigation is still ongoing.
Police said there will be a press-conference on Thursday with more details.
The National Defense headquarters in Ottawa received a memo, warning of the potential terrorist attack on Wednesday, CBC reported. There was also a photograph of a man in a balaclava attached, but it was unclear whether the man was Driver.
You can share this story on social media: