Sarkozy announces bid for French presidency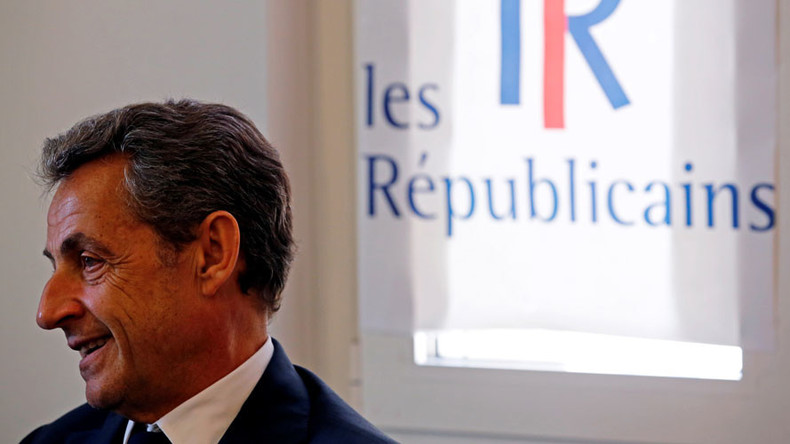 Former French President Nicolas Sarkozy has formally announced he will once again run for the country's highest office.
"I have decided to be a candidate in the 2017 presidential election," Sarkozy wrote in an extract of a book released on his Facebook and Twitter accounts on Monday.
"I've felt I had the force to wage this battle at such a tormented time of history," he added.
The conservative politician, 61, is expected to run a campaign based on hardline ideas on immigration and security, particularly following recent terrorist attacks in the country, AP reported.
However, he must first win the primaries organized by the French right in November, where he will face rival Alain Juppe, the former prime minister who is currently favorite in the polls.
Sarkozy served as president of France from 2007 to 2012, before losing his position to Francois Hollande, who beat the incumbent by a margin of 51.6 percent to 48.4 percent.
Popular opinion is largely divided throughout France when it comes to Sarkozy, whose politics and personal life with wife Carla Bruni – a former model – both landed him in the headlines during his time in office.
Sarkozy was among the first heads of state to demand the resignation of former Libyan leader Muammar Gaddafi, and France was the first country in the world to recognize the National Transitional Council as the legitimate government of Libya during the country's crisis in 2011. French fighter planes conducted the first military strikes against Gaddafi's forces.
When it comes to Russia, Sarkozy called himself a "friend" of the country while on a visit to Moscow last year. He called on Europe to strengthen dialogue with Russia during the same visit.
He also spoke out against Paris' cancelation of the French-Russian Mistral ship deal, with a member of his delegation during the visit saying: "He [Sarkozy] said it was a great mistake, he said it was a completely bad thing for France, for relations with Russia because when we sign a contract, we fulfill it."
The deal was made under Sarkozy's leadership in 2011, but was canceled by France, which cited Moscow's alleged participation in the Ukraine conflict – an accusation which Moscow has repeatedly denied.
In June, Sarkozy said that the West and Russia should lift sanctions to clear the way for a civilized diplomatic effort, but believes that Russia should act first because it is "the strongest player."
Sarkozy is no stranger to scandals. In February, he was placed under investigation over alleged breaches of the legal spending limits on his 2012 re-election campaign.
He also faced a criminal investigation over his 2012 campaign financing, over whether he was part of "false accounting" which would have seen more than €10 million (US$11.3 million) spent on the campaign being passed off as Union for a Popular Movement (UMP) party expenses.
He was held in police custody for 15 hours in 2014, as part of an investigation into claims that he attempted to gather information from a magistrate about legal proceedings against him. He denied the allegations, accusing his political rivals of attempting to run a smear campaign against him.
There is also an ongoing investigation into whether Sarkozy's campaign had received an illegal donation in the amount of €50 million (US$56.58 million) from then-Libyan leader Muammar Gaddafi prior to the French president being elected to office.
Sarkozy's UMP party was also accused of accepting cash from L'Oreal heiress Liliane Bettencourt to finance his 2007 campaign. Sarkozy was cleared of taking advantage of the elderly woman in 2013.
He also faced accusations that he rigged a settlement procedure which led to tycoon Bernard Tapie receiving €400 million ($452.6 million) from the French government in return for political support in 2007.