Italy rejects 'burkini' ban over terrorism fears, mulls tighter control of mosques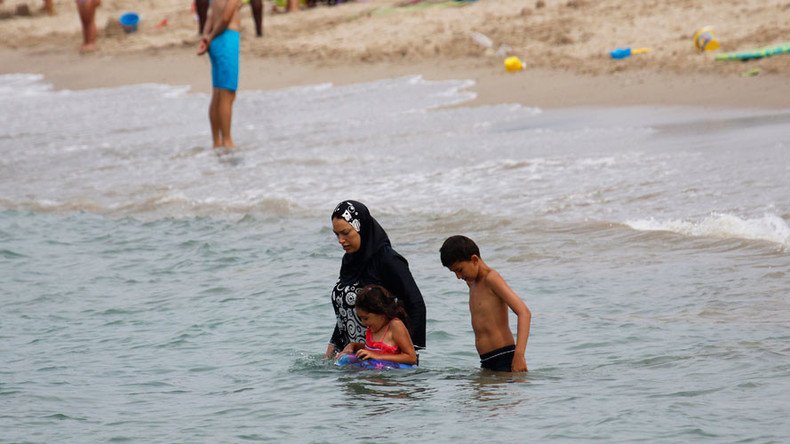 The Italian interior minister has ruled out the possibility of Italy following in France's footsteps and banning Muslim female swimwear. The minister called any ban on 'burkinis' counterproductive, saying it could provoke violence instead of deterring it.
"The interior minister's responsibility is to ensure security and to choose the severity of responses which, however, must never become provocations that could potentially attract attacks," Angelino Alfano told the Corriere della Sera daily newspaper, in answer to a question on his view of the widespread bans on full-face veils and other Muslim clothing in Europe.
When asked specifically about the burkini swimwear bans introduced by at least six French seaside towns following the terrorist attack in Nice, Interior Minister Alfano stated he does not think "that the French model has worked for the best."
Alfano said that his approach towards terrorism in Italy has been "severe" enough, pointing to the fact that within the past 18 months he has facilitated the deportations of some 109 people suspected of promoting radical Islam, nine of whom are imams.
"There is a difference between a prayer and praise to hatred and violence," Alfano said, commenting on the deportations.
He added, however, that depriving Italian Muslims of their religious symbols would be a violation of their rights.
READ MORE: French women's rights minister defends ban on 'hostile' Muslim swimwear
"I base my policy on our constitution, which guarantees everyone the freedom of worship, and on liberal doctrine, because there is a natural right that precedes all laws and constitutions, as well as on pragmatic convictions, because half a million Muslims live in Italy whom I certainly cannot consider terrorists or terrorist supporters," the minister said.
Instead of interfering in women's beachwear, Alfano is planning to submit a new security law in September aimed at stemming the risk of radicalization and preventing new terrorist acts. Under the legislation, the minister proposes that all imams allowed to preach on Italian soil are trained in the country, and that all Muslim places of worship are officially registered as mosques and comply with Italian law.
"We are working to facilitate the introduction of a model where imams are trained in Italy to operate in the country. Furthermore, we ask that Islamic communities help in identifying radicalized individuals," the minister told the Corriere della Sera.
"We need all places of worship to fully comply with the rules to avoid homemade mosques springing up in garages," Alfano added.
His remarks come after an increasing number of French coastal cities announced bans on burkinis –Muslim female swimwear which largely conceals the body.
Deemed "archaic" and "hostile," the swimwear was first banned in Cannes, followed by Villeneuve-Loubet, citing "hygienic reasons," and Sisco, Corsica, after a violent brawl there sparked by the Muslim swimwear. Three more French towns announced similar bans on Wednesday.
French Prime Minister Manuel Valls supported the initiative to ban the swimwear, saying it is "not compatible with the values" of the nation.
You can share this story on social media: