Russian Su-34 bombers attack & destroy over 100 ISIS terrorists from Iranian airfield (VIDEO)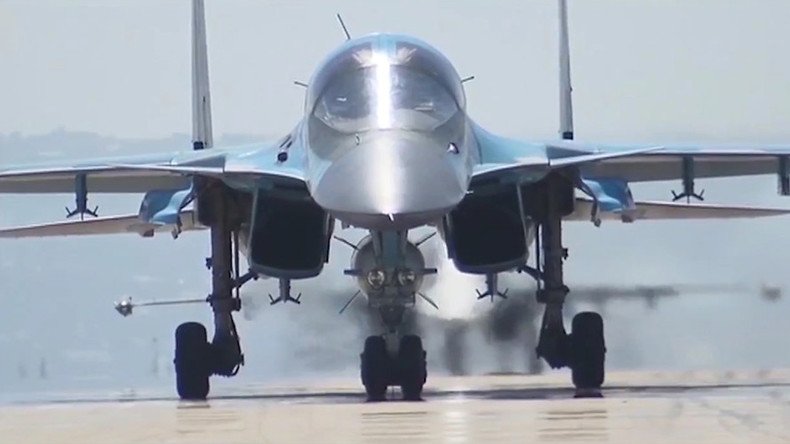 Russian Su-34 tactical bombers have delivered airstrikes in Syria on Wednesday for a second day in a row, taking off from Hamadan Airbase in western Iran. The assault eliminated at least 150 extremists in Syria's Deir-ez-Zor province, the MoD reports.
A deployment of Sukhoi Su-34 (NATO reporting name Fullback) strike fighters with full bomb payloads attacked and destroyed installations of Islamic State (IS, formerly ISIS/ISIL) in the neighborhood of the city Deir-ez-Zor
.
They were covered by Su-35s fighter jets which took off from Russia's Khmeimim Airbase in Syria.
The warplanes used fragmentation demolition OFAB-500 air bombs to eliminate two command posts and two large terrorist field training camps.
"Over 150 militants have been eliminated, among them foreign mercenaries," the ministry said in a press statement.
All Russian military aircraft have successfully returned to airfields in Iran and Syria.
The first Russian assault from Hamadan Airfield was delivered against terrorist installations in Syria on Tuesday, July 16.
Six long-range Tu-22M3 long-range bombers and a group of Su-34 tactical bombers took off from Hamadan to attack IS and Al-Nusra Front facilities in Aleppo, Deir-ez-Zor and Idlib provinces.
The bombers were also covered by Su-30sm and Su-35s fighter jets basing at Khmeimim.
In the meantime, Alaeddin Boroujerdi, the head of the Iranian parliament's Committee for Foreign Policy and National Security told journalists that Russian military aircraft use the Hamadan air base only for refueling. He also stressed that maintenance of the Russian airplanes at the base is carried out with the approval of the Supreme National Security Council of Iran.
"The flights of the Russian military jets are conducted in accordance with the decision of the Supreme Council in the framework of the quadruple cooperation between Iran, Russia, Iraq and Syria," Boroujerdi added.
You can share this story on social media: