N. Korea threatens 'merciless & annihilating' nuclear strike if US attempts invasion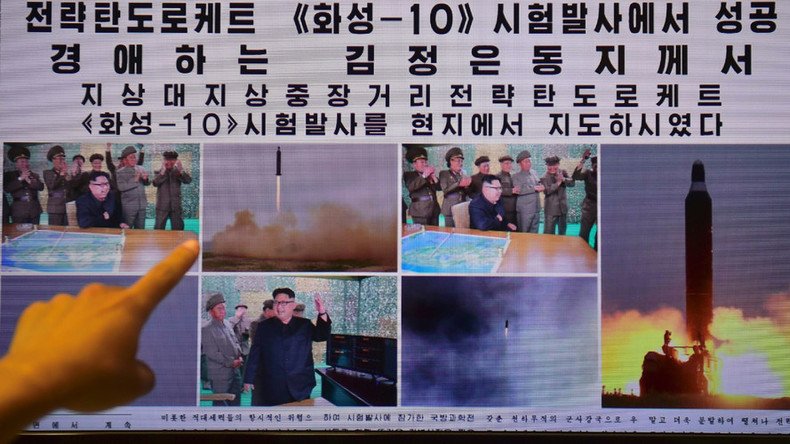 Pyongyang has accused Washington of preparing an invasion and threatened to retaliate with a "merciless and annihilating" nuclear strike on US forces if there is any sign of a military provocation.
The latest menacing warning from North Korea comes just days after the US said it had deployed nuclear-capable strategic bombers on the island of Guam, a move perceived in Pyongyang as a precursor to imminent armed aggression.
"The US attempt to invade the DPRK [Democratic People's Republic of Korea] is getting ever-more reckless," Korean Central News Agency said, as cited by South Korea's Yonhap.
"The US ever-more undisguised reinforcement of the nuclear force goes to clearly prove that it is trying to make a pre-emptive nuclear strike at the DPRK," the agency continued.
The state-run news outlet, which usually delivers official statements of the government, went on to claim that the North Korean military is quite capable of fighting back with all available means, including nuclear weapons.
"The right to make a pre-emptive nuclear strike is not the monopoly of the US.
"The DPRK's revolutionary armed forces… are fully ready to deal a merciless and annihilating blow to the enemy if they make even the slightest provocation," it said.
Pyongyang also asserts that Washington's actions do not to encourage "denuclearization" or "a world without nuclear weapons," an agenda championed by the Obama administration, according to the International Business Times.
READ MORE: Japan's military on alert to intercept N. Korean missiles – report
Tensions have been running high on the Korean peninsula over the past few days. Earlier this week, an unknown number of B-1 bombers and about 300 airmen were deployed in Guam, according to the International Business Times. North Korea sees the move as a sign of a looming invasion and has promised to respond with a "sea of flames."
The deployment of B-1s is probably a response to ballistic missile tests that have been recently conducted by North Korea. In early August, Pyongyang fired two projectiles, one of which travelled about 1,000 kilometers (620 miles). The other, said to be a medium-range Rodong missile, landed in the Sea of Japan some 250 kilometers (150 miles) off the country's northern coast.
READ MORE: Pyongyang accuses US of plotting preemptive nuclear strikes, calls bluff
The tests, which appear to have violated UN Security Council resolutions, come after the publication of Japan's Defense White Paper, which states that North Korea's nuclear program is a direct threat to Japan.
On Thursday, the US State Department updated a travel warning for North Korea, urging Americans to refrain from visiting the country due to a serious risk of arrest and long-term detention," given that North Korea has said that US detainees will be dealt with under the "wartime law of the DPRK."
You can share this story on social media: