Pyongyang accuses US of plotting preemptive nuclear strikes, calls bluff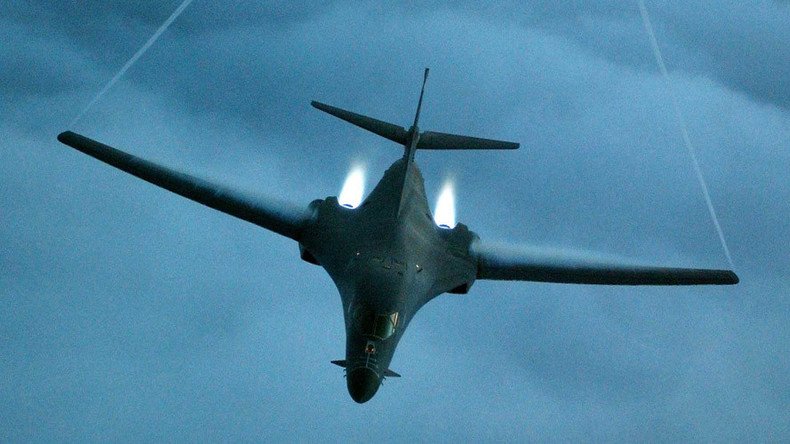 Pyongyang has accused Washington of aligning its nuclear forces closer to North Korea to increase its chances of conducting a pre-emptive strike, as Pacific Air Forces dispatched speedy and low-flying B-1B bombers to Guam for the first time in 10 years.
Blaming Washington of becoming "all the more pronounced" to topple the North Korean communist regime by "mobilizing all nuclear war hardware," Pyongyang warned the US against exacerbating tensions in the region that could ignite a nuclear war.
While accusing the US of pushing the situation on the Korean peninsula into the "uncontrollable and catastrophic phase," KCNA said that the "enemies are bluffing that they can mount a pre-emptive nuclear strike on the DPRK by letting fly B-1B over the Korean peninsula within two-three hours in contingency."
State media also warned that North Korea would respond to any aggression by reducing the US to a "sea of flames."
The undisclosed number of B-1s were dispatched to Guam on Saturday to replace the B-52 bombers that have been on Guam as part of US Pacific Command's continuous bomber presence mission. The B-1 bombers will be accompanied by about 300 airmen with "a unique perspective and years of repeated combat and operational experience" from the Middle East to the Pacific, the Air Force said.
In deploying the B-1s that can fly at more than 900 mph, the Hawaii-based command said that the bombers will provide a "significant rapid global strike capability that enables our readiness and commitment to deterrence, offers assurance to our allies and strengthens regional security and stability."
READ MORE: Pyongyang claims successful simulation of preemptive nuclear strikes on US targets in S. Korea
North Korea continues to show force and expresses belligerent rhetoric over the joint decision between Washington and Seoul to place Terminal High Altitude Area Defense (THAAD) system in South Korea. Just this week North Korea launched two ballistic missiles toward the Sea of Japan, in a series of military tests which began this year and that violate UN Security Council resolutions.
READ MORE: South Korea should think twice before deploying US THAADs – Chinese FM
You can share this story on social media: