Stolen plane crashes into street in Canada, pilot dies (PHOTOS, VIDEOS)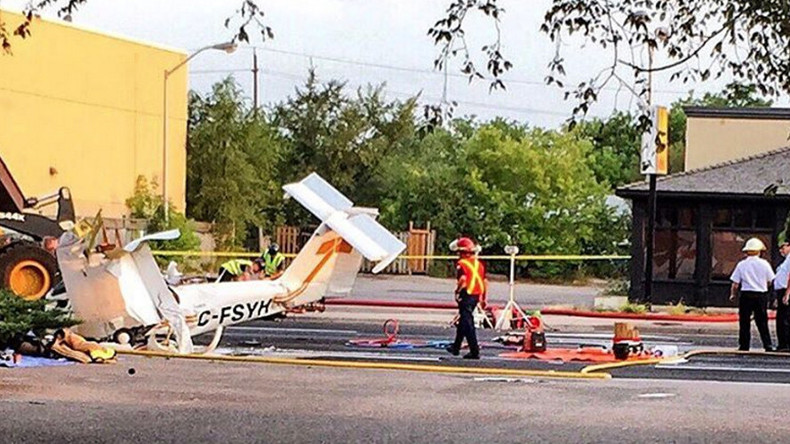 A small plane has crashed onto a road in the Canadian city of Peterborough, killing the pilot. The plane had reportedly been stolen with the pilot most likely trying to crash-land it on the street.
The small Paper-PA-38 Tomahawk that crashed shortly after 1am local time on Friday night on a street south of downtown Peterborough and killed the pilot was stolen from Markham Airport, local police confirmed.
The crash "is believed to be a crime and therefore will be investigated by police," the authorities said in a statement.
Some reports suggest that the pilot turned off the plane's lights when coming down, which may have been one of the causes of the crash.
READ MORE: Canadian takes plane on joyride, survives crash & attempts to flee police
"Our investigation will continue to determine the events that led to the theft of the plane and also the circumstances around the crash," Staff Sgt. Lynne Buehler said at a press conference on Friday morning.
According to one version, the pilot was attempting a crash-landing, although it's not yet clear if an operating failure caused the incident.
Investigators from police and the Transportation Safety Board have been sent to the site.
READ MORE: 4 die in plane crash, fire at Columbia Airport in California
The identity of the deceased, who was in his 20s, remains unknown. He is believed to have been the only person aboard the aircraft.
"I heard the bang and I saw the motor come flying, so I ran over to the plane top see if we could help the guy," an eyewitness told the local CP24 news outlet.
"He was alive. He was moaning to us to let us know he was alive and we just kept saying, 'help is coming, hold on, hold on.' I guess by the time the ambulance got there he was gone."
Paramedics dispatched to the scene tried to resuscitate the man, but he was pronounced dead.