Erdogan ultimatum: 'US has to choose between Turkey & Gulen'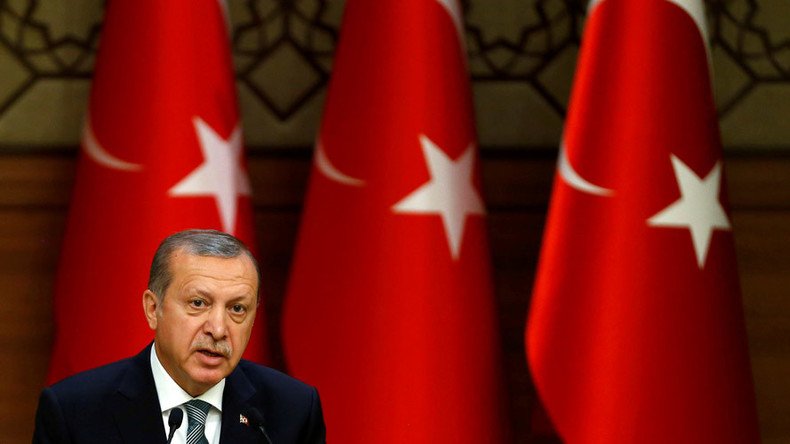 Turkish President Recep Tayyip Erdogan has issued an ultimatum to the US, saying it must choose between Turkey and the US-based Turkish cleric Fethullah Gulen, whom Ankara believes was behind the failed July 15 coup attempt.
"Sooner or later the US will make a choice […] Either the coup-plotting terrorist FETO [Gulenist Terror Organization, term used by non-Gulenists] or the democratic country Turkey. The [US] has to make this choice," Erdogan said in a speech in Ankara on Wednesday, as quoted by the state-run Anadolu Agency.
"Those who follow the Pennsylvania-based charlatan who sold his soul to the devil, or Daesh [Arabic pejorative term for Islamic State/IS], which shed Muslim blood, or the PKK that also has shed blood for 30 years to divide the country and the nation, will all lose in the end," the Turkish leader warned.
Erdogan's statement comes after Turkey's repeated calls to the US for Gulen's extradition. The 74-year-old cleric was a popular preacher and former imam before setting up his own movement. He was a firm ally of Erdogan as the Turkish leader rose to power, but the two fell out and have become bitter rivals.
Ankara claimed Gulen created a "parallel state" in Turkey in the form of a network of supporters among Turkish officials. Erdogan also accused Gulen of masterminding a corruption scandal involving senior government figures in 2013, and launched a crackdown against his organization, Hizmet. Gulen now lives in self-imposed exile in the US state of Pennsylvania, facing a life sentence back in Turkey.
READ MORE: Over 2,800 arrested, 265 killed, 1,440 injured in Turkish coup attempt
Erdogan accuses Gulen of orchestrating the July 15 coup, when a faction of the Turkish military attempted to topple the government overnight, but failed. The violence left over 260 people dead and many injured. The government has responded to the coup by launching a massive purge in the country's military and academic spheres.
Gulen has fiercely denied accusations that he was behind the coup, and has alleged that the Turkish president could have staged it himself for his own personal gain – a claim which Erdogan has called "nonsensical."
"I do not see any country that would stand behind [Gulen], this leader of the terrorist gang, especially after [the night of July 15]. The country that would stand behind this man is no friend to Turkey. It would even be a hostile act against Turkey," Prime Minister Binali Yildirim told reporters the morning after the failed coup. The same day, President Erdogan publicly demanded Gulen's extradition during a televised government meeting.
The US has repeatedly refused to hand over the cleric, saying Turkey would need to provide "evidence, not allegations" against Gulen in order to have him extradited.
"We fully anticipate that there will be questions raised about Mr Gulen, and obviously we invite the government of Turkey to present us with any legitimate evidence that withstands scrutiny and the United States will accept that and look at it and make judgments appropriately," US Secretary of State John Kerry said following Gulen's extradition demands.
READ MORE: 'Senior' Turkish naval officer seeking asylum in US – officials
The West has also been concerned with the Turkish government's post-coup crackdown, which so far has seen some 60,000 people in the military, judiciary, civil service, and education detained, suspended or placed under investigation due to having perceived links to Gulen.
In an effort to bar people who fear prosecution on coup-related charges from fleeing the country, some 50,000 passports have been canceled by the Turkish authorities. Erdogan also signed a decree ordering the closure of hundreds of institutions associated with Gulen, or run directly by Hizmet, as well as some 130 media outlets. At the end of July he also promised to reinstate the death penalty in the country.
In response to these measures, Western politicians have warned Erdogan his attempts to make Turkey an EU member are doomed if the purges don't stop.
"No country can become an EU member state if it introduces the death penalty," EU Foreign Policy Chief Federica Mogherini said. While EU Commission President Jean-Claude Juncker recently told broadcaster France 2 that he believes "Turkey, in its current state, is not in a position to become [an EU] member any time soon and not even over a longer period."
Turkey responded angrily to these remarks, with Foreign Minister Mevlut Cavusoglu lashing out at the EU for its reaction to the failed coup, while adding that if the West "loses" Turkey, it will be due to its own mistakes, not due to the fact that Ankara was seeking allies elsewhere, such as Russia or China.
You can share this story on social media: