Turkish FM: West failed test following coup attempt, in danger of losing Turkey
Published time: 10 Aug, 2016 14:12
Edited time: 11 Aug, 2016 13:04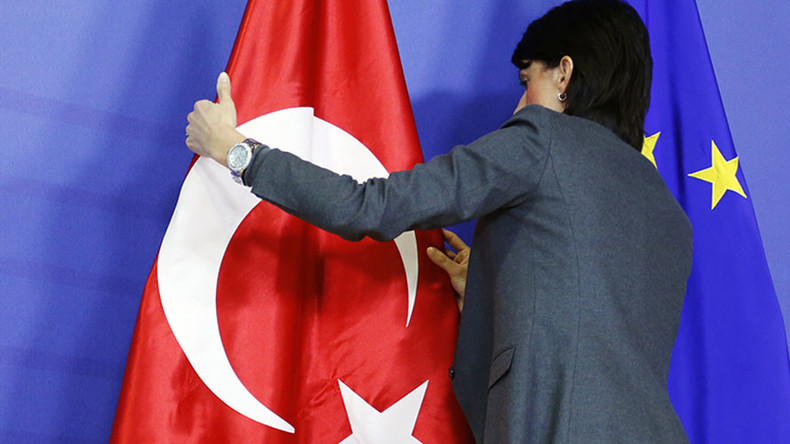 Turkish Foreign Minister Mevlut Cavusoglu has lashed out at the EU for its mixed reaction to the failed coup attempt against President Recep Tayyip Erdogan, while adding that if the West "loses" Turkey, it will be due to its own mistakes.
Speaking to the Anadolu news agency, Cavusoglu was uncompromising in his stance towards the EU. He accused the bloc of making serious mistakes and having "failed the test" following the failed coup attempt against President Erdogan, which took place on July 15.
"Support for EU membership used to be around 50 percent of the population, I assume it is around 20 percent now," he said, as cited by Reuters.
Cavusoglu pointed out that there is growing resentment in Turkey due to a perception that the EU and US have only been giving mild support to Ankara in wake of the attempted coup.
These frustrations pushed Cavusoglu to declare that if the West "loses" Turkey, it will be because of its own mistakes, and not due to the fact that Ankara was seeking better ties with Russia or China.
Erdogan met President Vladimir Putin on Tuesday for the first time since Turkey downed a Russian bomber over Syria last November.
"This will be a historic visit, a fresh start. I believe that a new page will be opened [during]... the negotiations with my friend Vladimir [Putin]," President Erdogan told TASS news agency in an exclusive interview ahead of the St. Petersburg visit, adding that "there is yet much for our countries to do together."
Cavusoglu said that Turkey and Russia will look to establish a joint military, intelligence, and diplomatic mechanism, but warned it would not come at the expense of good relations with NATO. Ankara is a member of the alliance and has allowed the US military to use its Incirlik airbase for operations against Islamic State (IS, formerly ISIS/ISIL) in Iraq and Syria.
"Turkey wanted to cooperate with NATO members up to this point," the minister said. "But the results we got did not satisfy us. Therefore, it is natural to look for other options. But we don't see this as a move against NATO," he told Anadolu.
Turkey has been incensed by the US' refusal to hand over cleric Fethullah Gulen, who Ankara believes organized the attempted coup. The Turkish government wants Gulen, who lives in self-imposed exile in Pennsylvania, to be extradited to face trial at home, but Washington has repeatedly refused, saying it needs clear evidence that there was a link between Gulen and the attempted coup before it will consider complying with Turkey's request.
The West has also been highly critical of the Turkish government's post-coup crackdown, which has seen some 60,000 people in the military, judiciary, civil service, and education fired, of whom 16,000 have been arrested and detained.
While he condemned the coup in Turkey, the French Foreign Minister Marc Ayrault said it was vital for the "rule of law to function fully," warning that the crackdown should not be a "carte blanche for Erdogan."
Meanwhile, EU Foreign Policy Chief Federica Mogherini warned Ankara that it could forget about becoming an EU member if it wanted to bring back the death penalty for those accused of orchestrating the coup.
"No country can become an EU member state if it introduces the death penalty," she said. "Turkey is an important part of the Council of Europe and is bound by the European Convention on Human Rights, which is very clear on the death penalty."
Hay Eytan Cohen Yanarocak, a Middle East researcher at Tel Aviv University told RT that Turkey is experiencing problematic relations with the EU and US due to Washington's refusal to extradite Gulen and the EU's half-hearted condemnation of the coup.
"These two steps were not acceptable and, in order to show the Europeans and Americans his [displeasure] and discomfort, he is conducting this rapprochement with Russia."
Cohen Yanarocak also added that Turkey's reconciliation with Russia was forced on Erdogan by the state of Turkey's economy.
"I must admit that because of the Russian sanctions against Turkey in tourism, and fruit and vegetables exports the Turkish economy is in a very grave situation. He had to rehabilitate the Turkish economy and he had to mend relations with the Russians," he told RT.