Turkey will walk from refugee deal if EU fails to grant visa-free travel – Erdogan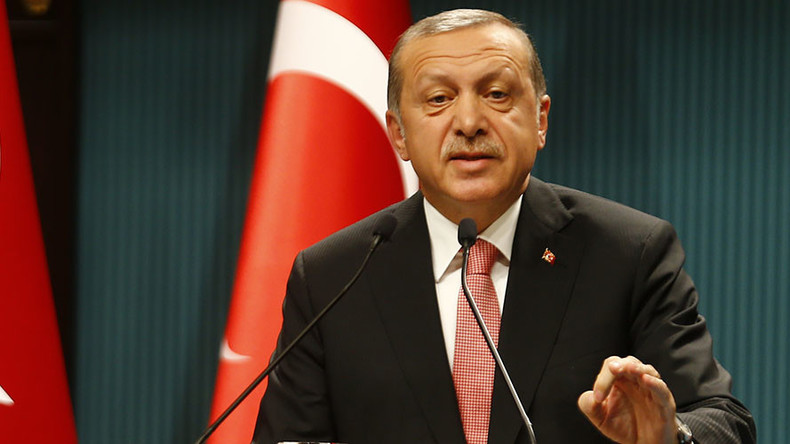 Turkish President Recep Tayyip Erdogan says Ankara will not go ahead with the landmark migrant deal made with the EU in March if the bloc fails to grant visa-free travel to Turkish citizens.
"If the EU does not grant visa liberalization for Turkish citizens, Ankara will no longer respect the March agreement on migrants," Erdogan said during an interview with Italian news outlet Rai 24.
The comment echoes a Sunday statement from Turkish Foreign Minister Mevlut Cavusoglu, who said that Ankara would back out of the agreement if Brussels failed to deliver on its promise of a visa-free travel regime for Turks by October.
The landmark deal agreed by the two sides in March is aimed at returning all illegal migrants reaching Greece from Turkey's shores. In exchange, the EU would take in thousands of Syrian refugees directly from Turkey. The EU would also give Turkey €6 billion (US$6.8 billion) in funding over the next five years.
The deal would also see an accelerated process for Turkey's EU accession, and visa-free travel to the Schengen Zone for its citizens.
However, the visa-free agreement has failed to come to fruition, despite a plan to introduce it in July, because Turkey has failed to comply with all of the EU's 72 criteria – a sticking point of which is a requirement that Ankara relax its stringent anti-terrorism legislation.
As tensions between Ankara and the European Union continue to rise, Austrian Chancellor Christian Kern has warned that the EU must not allow itself to be bullied by Turkey regarding the migrant deal.
"We should in no way allow ourselves be intimidated," Kern told Österreich newspaper.
Austrian Foreign Minister Sebastian Kurz expressed a similar sentiment, saying that Brussels "should not give a millimeter" to Turkey's demands, the Local reported.
German Vice-Chancellor Sigmar Gabriel also criticized Turkey's threats on Monday, arguing that it has not met the conditions required for visa-free travel, and stating that the EU and Germany "should under no circumstances be blackmailed."
The migrant deal is aimed at curbing the impact of the refugee crisis on Europe, which saw some 1.8 million asylum seekers entering the EU from the Middle East and North Africa last year, according to data from the EU border agency Frontex.
You can share this story on social media: