'Waiting until October': Turkey issues ultimatum to EU over visa-free travel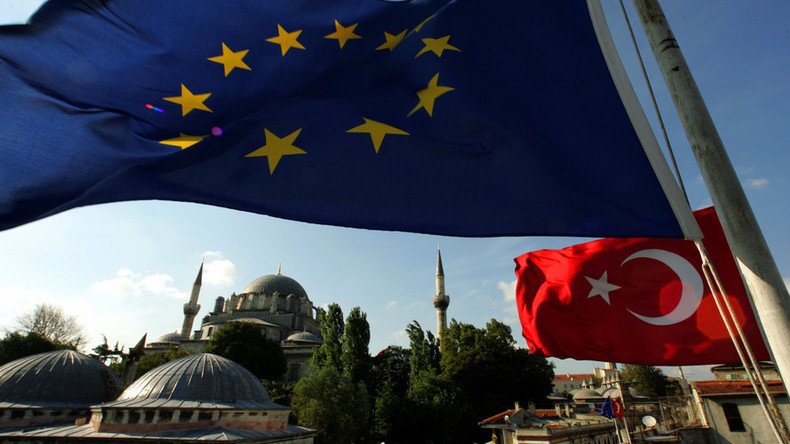 Turkey will not fulfill its part of the refugee deal with the EU if the bloc does not lift its visa requirements for Turkish citizens by October, Turkey's foreign minister, Mevlut Cavusoglu, told a German daily.
Turkey's fulfillment of its commitments under the refugee deal with the EU "depends on the lifting of visa requirements for our citizens that is also a subject of the agreement," Cavusoglu said during an exclusive interview with Frankfurter Allgemeine Zeitung.
The minister also stressed that the Turkish government is waiting for a "specific deadline" to be set for the lifting of visa requirements. "It can be early or mid-October but we wait for an exact date," he said.
Cavusoglu also emphasized that his words are "not a threat," but added that "if there is no visa abolition, we will be forced to abandon the agreement struck on March 18 concerning taking back [refugees]."
He also said that the deal is working only because Turkey is taking "very serious measures" to stop the refugee inflow, particularly in fighting people smugglers.
Under the agreement signed in March, Brussels pledged to pay Turkey €6 billion, grant visa-free travel to Turkish nationals, and speed up EU accession talks with Ankara. In exchange, Turkey agreed to take back all illegal migrants and refugees that reach Greece via Turkey, while allowing a certain number of asylum seekers to travel to the EU legally.
The deal came into force on March 20. The visa-free pass was initially to be introduced by July, however, Turkey has failed to comply with all of the EU's 72 criteria for lifting the visa requirement, including relaxing its stringent anti-terror legislation, which has become a sticking point in negotiations.
The situation was further complicated by the failed coup attempt in Turkey on July 15, as many EU officials and politicians have voiced concern over the Turkish government's crackdown on fundamental rights. Some have stressed that the foiled rebellion must not be used as a "carte blanche for arbitrariness."
The possible re-introduction of the death penalty in Turkey has caused particular concern in Europe. EU Foreign Policy Chief Federica Mogherini has warned that no country with capital punishment can become an EU member, and German government spokesman Steffen Seibert said that bringing back the death penalty would lead to an "immediate suspension of accession talks."
In the meantime, on Sunday, Greece raised the alarm over an increasing influx of refugees from Turkey, stressing that the number of new arrivals had grown significantly following the foiled coup. Some people in Greece have even compared the present situation to that which had existed before the deal with Turkey was struck.
Athens also said that it has evidence that Turkey is already going back on its promises.
You can share this story on social media: