Europe should ignore Turkey's 'visa blackmail' over refugee deal – German vice chancellor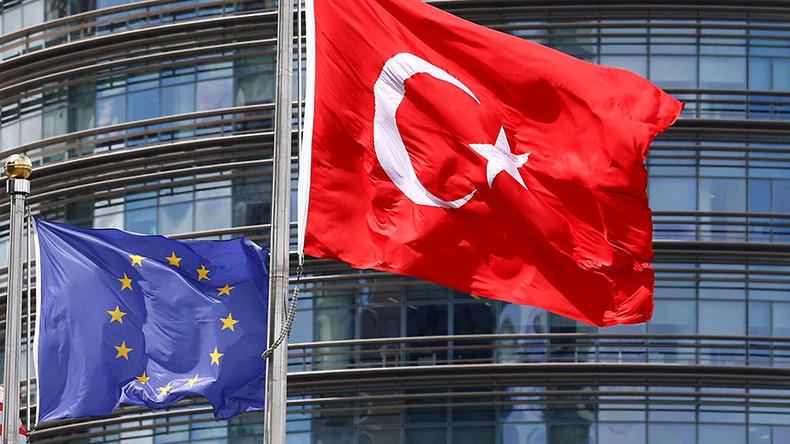 It depends on Ankara whether Turks will enjoy visa-free travel to Europe, Germany's vice chancellor has said, adding that it was the right decision to ban a live broadcast by the Turkish president to a rally in Cologne on the weekend.
"It is up to Turkey if there is or there isn't visa liberalization," Reuters quoted German Vice Chancellor Sigmar Gabriel as saying while on an official visit to northern Germany.
"Germany and Europe should under no circumstances be blackmailed," Gabriel added.
The vice chancellor also welcomed the move by Germany's highest court to block a livestream address by Turkish President Recep Tayyip Erdogan to a rally of Turkish nationals in Cologne on Sunday.
On Monday, Turkish Foreign Minister Mevlut Cavusoglu said Ankara would back out of the migrant agreement with the EU if Brussels failed to deliver on its promises of a visa-free travel regime for Turks by October.
"All that is dependent on the cancelation of the visa requirement for our citizens, which is also an item in the agreement of March 18," Cavusoglu said, as cited by German daily Frankfurter Allgemeine Zeitung.
Although no special date for visa liberalization has been set, "it could be the beginning or middle of October," Cavusoglu added.
The comprehensive EU-Turkey refugee deal, which came into force on March 20, requires that Turkey take back all illegal migrants and refugees entering Europe via its territory in exchange for speeding up EU accession and allowing Turkish citizens to travel to the EU without a visa.
The visa-free agreement was initially planned to be introduced by July, but Turkey has failed to comply with all of the EU's 72 criteria, including relaxing its stringent anti-terrorism legislation, which became a sticking point in the negotiations.
The deal also involved exchanging migrants and refugees already living on Greek islands for others living in Turkish refugee camps.
"For every Syrian readmitted by Turkey from the Greek islands, another Syrian will be resettled from Turkey to the EU member states," the proposal said.
Last month, EU Commissioner Günther Oettinger ruled out granting Turkish citizens visa-free travel to the EU in 2016, citing the failed coup in Turkey on July 15 and the nationwide crackdown that followed as reasons for the move to be stalled.