'Turkey gave up EU membership hope, seeking other partners'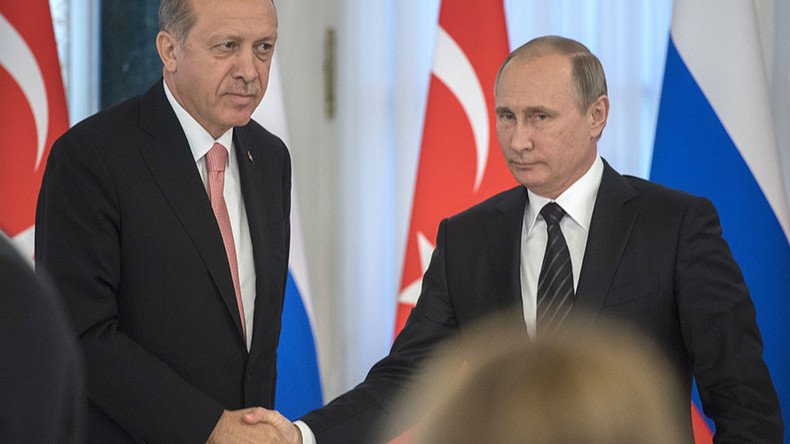 Speculation Turkey has given up hope of joining the EU, means it is looking for assistance and friendship elsewhere in the region, with Russia being a key factor in the game, said Peter Schulze from the University of Goettingen.
Russian President Vladimir Putin and Turkish leader Recep Tayyip Erdogan met in Saint Petersburg on Tuesday and agreed to restore ties between the two countries. The German Foreign Ministry welcomed the meeting, saying that better communication is important during the ongoing crisis in Syria.
"It is good that the two countries have moved closer again after Turkey shot down a Russian combat aircraft last year," German Foreign Minister Frank-Walter Steinmeier told Bild daily on Tuesday.
Peter Schulze says he was not surprised by the reaction from Germany since "it is one of the basic principles of German policy and I think as well of the European policy - to negotiate, to come to a peaceful settlement via negotiations."
"Therefore, to mend the problems between Russia and Turkey is of course of utmost importance for the solution of the Syrian crisis," he added.
He agrees that there is a slight contradiction here as Germany said Russia was partially responsible for exacerbating the situation by assisting the Syrian government, but also they need Turkey to assist them with their own requirements.
"There is couple of different voices within the internal government, especially within the internal political spectrum – of course you will find this kind of accusation against Russia," the analyst told RT. However, he went on, it is well-known "that Russian intervention in Syria moved the process further to a kind of a negotiated or a peace agreement."
In Prof. Schulze's view, Erdogan's meeting with Putin will not influence relations between Turkey and the EU. That's because Turkey's membership in the EU, visa-free travel as well as the refugee problem that the bloc has been struggling to deal with is not connected to Moscow-Ankara ties.
"But Russia has gained by accepting the apologies and establishing relations again with Turkey a kind of warm supporter within NATO. This is very important for Moscow," he added.
Turkey is also in a better position now that it is on the way to establishing pre-crisis relations with Russia, particularly in economic and trade areas, Schulze said.
"[Turkey] is less dependent on what the EU is going to do in a way, I would even speculate, that Turkey has given up any hope of becoming a member of the EU. Therefore, the Erdogan government will look for assistance and for friendships around the region. Russia is a key factor in this game," the expert says.
The statements, views and opinions expressed in this column are solely those of the author and do not necessarily represent those of RT.
You can share this story on social media: