At least 12 newborn babies die in Baghdad hospital inferno as locals blame government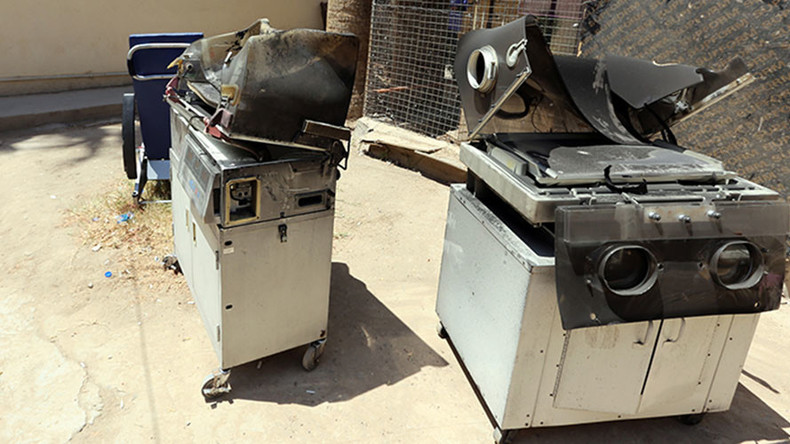 At least 12 newborn babies died in a fire at a Baghdad hospital as their parents desperately tried to find and rescue them. Dozens have gathered outside the hospital to express their grief and shock.
Fathers continued to search for their missing newborns and wives at the scene.
The head of the hospital, Saad Hatem Ahmed, said the initial cause of the fire had been faulty electrical wiring, adding that 29 female patients and eight babies had been sent to another hospital following the blaze.
Shaima Hassan was left in shock after losing her two-day-old son in the fire. Aged 36, she had spent the past year trying to conceive.
Hassan described the situation inside the hospital when the blaze broke out to AP.
"People started screaming, 'Fire, fire' and running," she said. She and her husband tried to run to the room where the newborn babies were, but were stopped by a thick wall of smoke.
"Then someone broke a window and threw me out."
Voicing her anger, she even compared the hospital's administration to Islamic State (IS, formerly ISIS/ISIL).
"I would not differentiate them from ISIS. They are the same thing," she is quoted as saying.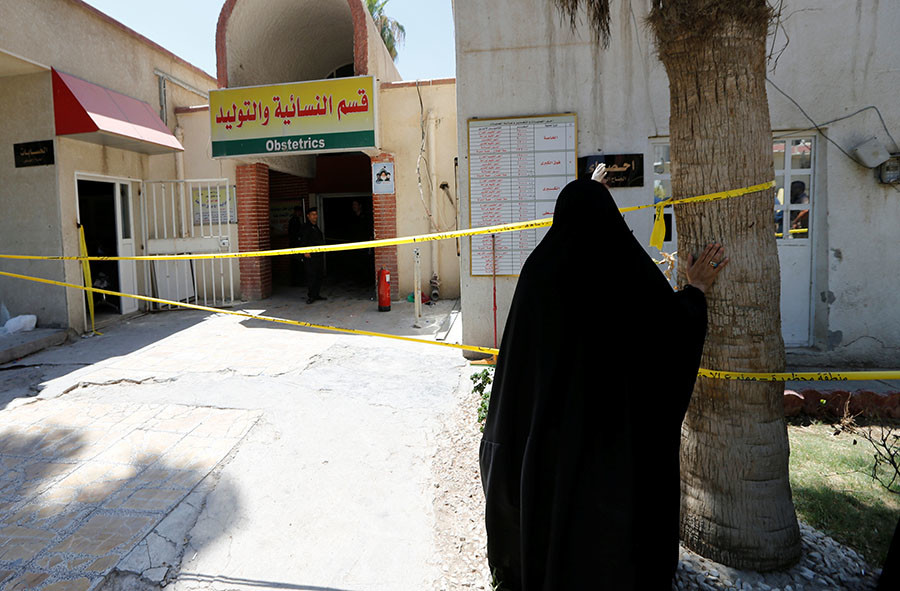 Local authorities blocked the hospital area at first, barring access to the press, but later opened the facility to journalists.
A 30-year-old construction worker identified as Hussein Omar lost his newborn twins - a baby boy and a baby girl - in the blaze. The hospital authorities sent him to other hospitals to look for his children, but all he saw were burnt pieces of human flesh.
"I want my baby boy and girl back. The government must give them back to me," Omar cried, venting his anger at Iraqi officials.
Eshrak Jaasar, 41, whose nephew was missing, was also cited by AP as lashing out at the officials' perceived negligence.
"It's a corrupt government that doesn't care about its citizens and lets this happen," Jaasar is quoted as saying.
Locals previously treated at the hospital told Reuters the site was in a "state of neglect" and "dirty." One of them added he had seen a cockroach crawling next to medical equipment.
Racked by grief, several family members made even stronger statements.
Abu Muaad said the blaze was arson and that officials are to blame.
"The incident was deliberate, and I accuse the administration of the hospital of being behind the incident," he said, as quoted by the New York Times.
Yarmouk hospital is heavily supported by the government, with treatment often free of charge. However, the ongoing fight against Islamic State, coupled with the drop in oil revenues, has seen serious cutbacks in state funding of hospitals in Iraq.