Ukrainian miner sets himself ablaze over wage delays (VIDEO)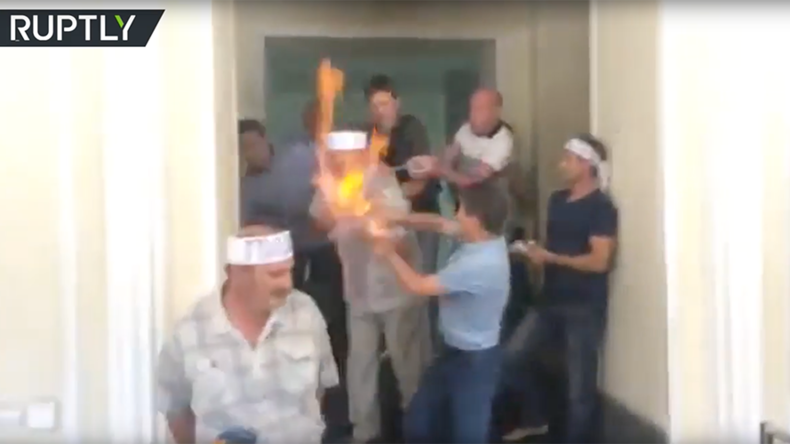 A Ukrainian miner who was on hunger strike over massive wage arrears has resorted to self-immolation at the country's Energy and Coal-Mining Ministry.
Viktor Trifonov was taking part in a press conference at the ministry together with other hunger-striking miners.
At one point, as another miner started to address the media, the man in his 50s poured a flammable liquid on himself and used a lighter to set himself ablaze.
His colleagues instantly rushed to help Trifonov, stripping his burning shirt off and extinguishing the flames.
The veteran miner was taken to hospital and put in intensive care, with "burns of 12 percent of his body: face, neck and chest," the chairman of the Independent Miners Union of Ukraine, Mihaylo Volynets, wrote in Facebook.
Before setting himself on fire, Trifonov took the floor at the beginning of the press conference, saying that the miners came to the ministry "to protest the unpopular policies that are now being implemented against the Ukrainian people."
"We had enough of begging for our well-earned money to be given to us… I feel ashamed before my kids for being forced to do this," he said.


According to Ukraine broadcaster 112, Trifonov earlier wrote a letters to the Ukrainian PM and energy minister, stressing that he and his colleagues "are ready for extreme measures and will protest till the end."
READ MORE: Veteran sets self on fire outside VA clinic
The miners went on hunger strike to demand the authorities deal with the crisis in the coal industry and repay arrears of wages, which led the closure of several large mining companies.