'We inevitably think of terrorist attacks': French react to 'Before I Die' wall at Paris station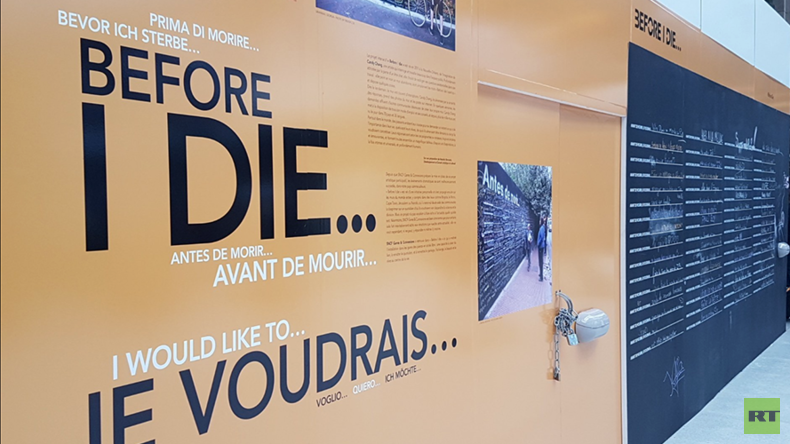 French passengers have questioned the timing and location of an installation at Gare de Lyon railway station titled 'Before I Die' - where people should write their supposed last thoughts.
French rail operator SNCF placed the wall in Gare de Lyon, one of the six large railway station terminals in Paris, earlier in August. The station handles some 90 million passengers every year.
The words of the wall read: "Before I Die, I would like to…," and people should then continue the line with what they would like to do before they pass away.
The 'Before I Die' project was created back in 2011 by Candy Chang, an artist from New Orleans, USA. Since then, some 1,000 such walls have been created in over 70 countries.
However, French citizens - who have witnessed several terrorist attacks in the last 18 months - are not enjoying the call to voice their final wishes. Railway stations have been listed as potential targets of terrorists, according to numerous reports.
"Before dying, I would first like to live my life quietly and I don't think about death, I keep it for when it will happen," Carlor, a passenger, told RT.
One of the writings on the wall states: "Before I Die, I wish peace in the world."
"In our times it [the wall] seems to be a little difficult for us, I just discovered it and I think this is baffling," another passenger, Olivier, told RT.
Another commuter, François, added: "Before we used to ask children, 'What would you do during the next holidays or when you grow up?' and now we ask them, 'What would you do before dying?'"
Not all the wall messages were discreet, however. Some read: "Say to [President François] Hollande that he is a traitor," and "Islam out."
"I think there are words that shouldn't be used here," Rudy, another passenger told RT.
A passenger named Sandrine told Le Parisian newspaper that now when people go into a train station they "inevitably think of the attacks."
"So when I saw the words on the wall I was very surprised," she said, adding however that "the substance of the project is basically nice."
"It's nonsense. Imagine if they'd put the same thing in an airport," another traveler said, as reported by Le Parisien.
READ MORE: 'Hard' for France to guarantee freedom of Islam if Muslims don't help country – Valls
In the meantime, Gare et Connexions, the branch of SNCF which developed the project, said the company has "been working on this project for two to three years" and the idea was developed "before the terrorist attacks."
"There is no link between the two. We did ask ourselves whether we should cancel it, but we decided that life goes on and that people needed to express themselves, and we need a bit of hope in this world."
France has been shaken by a series of Islamic State-linked (IS, formerly ISIS/ISIL) attacks since January 2015. The biggest loss of life was in November 2015 when at least 130 people were killed in Paris. Following that attack, France introduced a state of emergency which is still in place.
A tragedy in Nice on July 14 killed at least 84 people when a truck driven by an IS sympathizer plowed through a crowd during Bastille Day celebrations.