ISIS plunders unique archeological site in Syria, destroys 'profane' artifacts (VIDEO)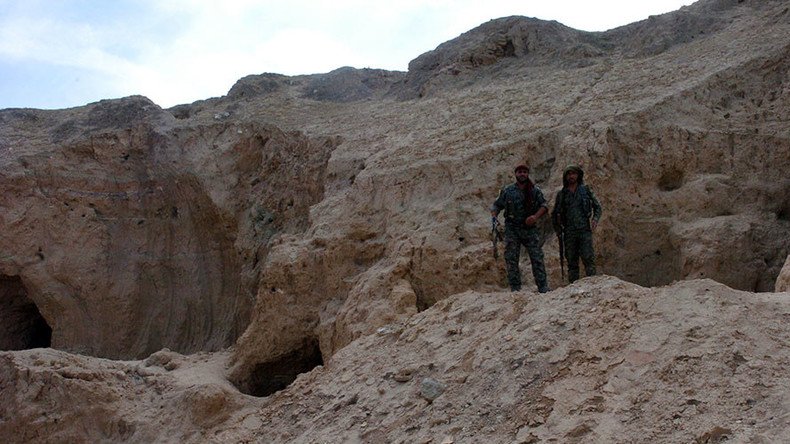 One of Syria's most important archeological sites, the Assyrian-era Tal Ajaja ancient settlement, has been cleaned out by Islamic State militants and other illegal diggers who have savagely extracted priceless artifacts, intentionally destroying some.
Situated in Syria's northeastern Hasakeh province, the Tal Ajaja site was once a cultural center of the Assyrian Empire, which flourished in the first millennium BC.
Tal Ajaja was first excavated back in the 19th century, with most discovered artifacts making their way to museum collections in Syria and abroad.
"Tal Ajaja, or ancient Shadikanni, was one of the main cities of Assyria," Cheikhmous Ali of the Association for the Protection of Syrian Archeology said, as quoted by AFP.
Looters who arrived at Tal Ajaja after it was seized managed to extract marketable artifacts with the intention of selling them.
"More than 40 percent of Tal Ajaja was destroyed or ravaged by IS," said Khaled Ahmo, director of the antiquities department in Hasakeh.
The hill that Tal Ajaja used to stand on, situated some 50 kilometers from the Iraqi border, has now been pillaged, with a number of tunnels dug through it. The tunnels allowed for the looters to reach previously untouched underground levels of the ancient city.
"The tunnels that were dug destroyed invaluable archeological strata that would have revealed the economic, social, and political history of the era," Ahmo told AFP.
Crushed artifact fragments are now spread throughout the site and inside the tunnels.
The looters allegedly managed to unearth previously unknown millennia-old statues and a number of cuneiform tablets, which were later destroyed, AFP reported.
Illegal excavations on the territories under terrorist control have been thriving since 2014, when Islamic State (IS, formerly ISIS/ISIL) seized large territories in Syria and Iraq. The jihadists completely devastated museums, selling off and trafficking all of the antiques they could lay their hands on.
At the same time, IS militants destroyed artifacts and museum showpieces which they found blasphemous, such as statues depicting animals and human beings.
Islamic fundamentalists believe other cultures' idols, shrines, and statues represent the worshipping of objects other than God, and believe they must be destroyed.
In April 2015, IS militants published a video which allegedly showed the militant group destroying the ancient Assyrian city of Nimrud, using bulldozers and explosives. A UNESCO cultural site located near Mosul, Nimrud was once considered one of Iraq's greatest archaeological treasures.
In April 2016, IS destroyed a 2,000-year-old gate near the Iraqi city of Mosul. The structure was known as the Gate of God, and once guarded the ancient Assyrian city of Nineveh.
In May 2015, IS militants gained full control of the historic Syrian city of Palmyra, a UNESCO landmark. The militants then rigged it with explosives and meticulously eliminated a number of historic objects on the UN-protected site, before it was liberated by Syrian troops and de-mined by Russian military engineers.
READ MORE: ISIS extremists blow up 2 historic shrines in Palmyra, Syria
READ MORE: ISIS fighters plant mines and bombs in Palmyra - monitor
READ MORE: ISIS partially destroys 2,000-yo Bel temple in Palmyra, Syria – monitor
You can share this story on social media: