ISIS extremists blow up 2 historic shrines in Palmyra, Syria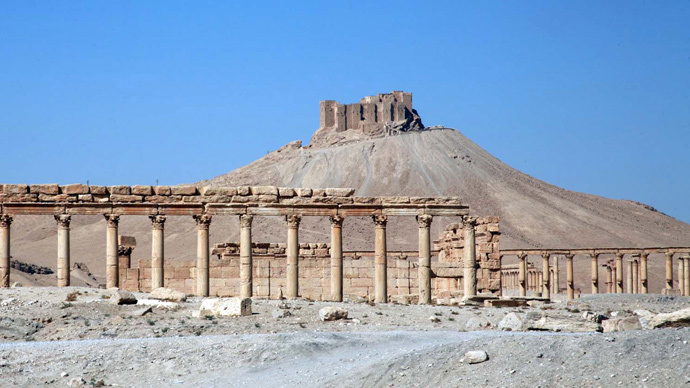 Islamic State militants have decimated two unique tombs in the historic central Syrian city of Palmyra, a UNESCO landmark. One of the destroyed mausoleums, deemed "sacrilegious" by the jihadists, is believed to have been over five centuries old.
The head of the Antiquities and Museums Department in Damascus, Maamoun Abdulkarim, told AP that one of the destroyed shrines belonged to Mohammad Bin Ali, a descendant of Prophet Muhammad's cousin Imam Ali. The second tomb, about 500 years old, was of a Sufi religious figure known as Nizar Abu Bahaaeddine.
Isis destroy two shrines (of Mohammed Ali & Abu Baha Eddin) in Palmyra -- call it "removal of polytheism landmarks" pic.twitter.com/Zuni3uls7y

— Hassan Hassan (@hxhassan) 23 июня 2015
The before-and-after pictures showed extremists carrying explosives to the ancient mausoleums, which they then proceeded to blow up.
The remains of Palmyra, once one of the world's key cultural hubs, stand in the middle of the desolate Tadmorean Desert in Syria. UNESCO describes Palmyra as a city of "outstanding universal value," an "oasis in the Syrian desert" northeast of Damascus.
Since Islamic State (IS, formerly ISIS/ISIL) captured Palmyra, fears have been mounting that the militants, notorious for their brutality, would blow up Syrian landmarks as they had done in Iraq. Hundreds of statues were moved from the city to locations safe from IS militants' hands last month.
In March, IS destroyed the historic Assyrian city of Nimrud, which dates back to the 13th century BC. The extremists also destroyed a museum in the Iraqi city of Mosul, which they captured in June. The group posted video online featuring jihadists destroying ancient statues and other artifacts on the grounds they are symbols of idolatry.
In February, they also blew up the Mosul Public Library using homemade bombs. The previous month, the militants removed a massive amount of books from the Central Library of Mosul, leaving only Islamic texts.
Islamic State declared a caliphate after capturing large parts of Iraqi and Syria last summer. The jihadist group has a reputation for ethnic cleansings of minorities and executions of Western hostages, a number of journalists being among them.
Late last month, when IS gained full control over Palmyra, the monitoring group said it was the first time the jihadists had taken a large population center directly from Syrian pro-government forces. The jihadists killed 49 people in and around the city, including members of the Syrian security forces in Palmyra, the Syrian Observatory for Human Rights said.
According to the UN human rights office, a third of Palmyra's population of 200,000 has fled. Syrian state TV reported last month that pro-government fighters had withdrawn from the city.
You can share this story on social media: