Erdogan says talks with 'friend' Putin to start new page in Russia-Turkey relations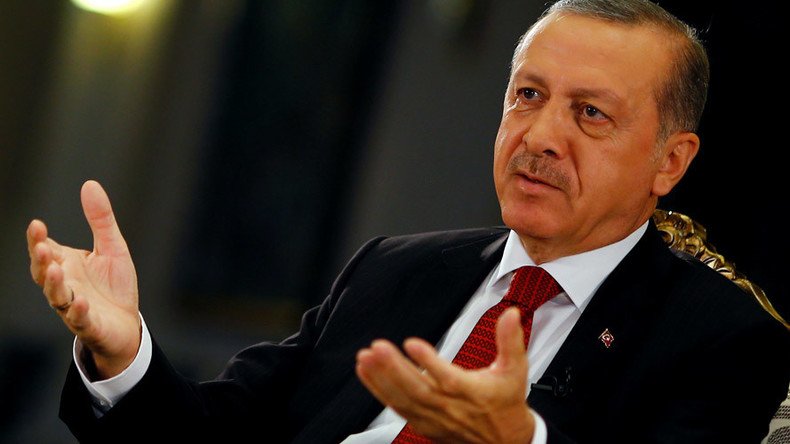 Turkish President Recep Tayyip Erdogan has said that the upcoming talks with his "friend" Vladimir Putin in St. Petersburg will "open a new page" in relations between Turkey and Russia.
"This will be a historic visit, a fresh start. I believe that a new page will be opened [during] ... the negotiations with my friend Vladimir," Erdogan told TASS news agency in an exclusive interview ahead of his state visit on Tuesday, adding that "there is yet much for our countries to do together."
The Turkish leader also stressed the importance of Russia's efforts in Syria by acknowledging that the reconciliation of the Syrian conflict is impossible without Russia.
"A solution to the Syrian crisis cannot be found without Russia. We can resolve the Syrian crisis only in cooperation with Russia," Erdogan said, stressing that Russia's participation is highly important for the Syria peace process.
Earlier, the Turkish leader already stressed that he expects the resumption of "productive talks" on the Syrian issue with Russia after he gave interview to Turkey's TRT broadcaster.
The Kremlin also expressed hope that the Turkish position on Syria will become "more constructive."
"The Syrian crisis will be discussed in depth [at the meeting of the two presidents] and we hope that Turkey's position will become more constructive," Vladimir Putin's aide, Yury Ushakov told reporters on Friday.
In his Sunday interview with TASS, Erdogan also once again criticized the EU for what he called a nonfulfillment of its obligations to Turkey for 53 years.
"The EU plays with us for 53 years. We consistently have been proving our honesty and expect the same from the EU. It should abandon the policy of double standards," the Turkish president said.
Relations between the two countries soured after Turkey shot down a Russian military jet in Syria in November 2015. After the incident, Russia imposed a number sanctions against Turkey, including a food import embargo, a ban on charter flights to Turkey, the introduction of a visa regime, as well as the prohibition of hiring of Turkish citizens.
At the request of the Kremlin, Russian travel agencies suspended sales of package tours to the country.
Russian-Turkish relations improved after Erdogan apologized to the Kremlin for the jet incident.
Russia was also one of the first countries that expressed its support for the Turkish elected authorities during a coup attempt on July 15.
You can share this story on social media: