Far-right fears, protests see German city freeze refugee center construction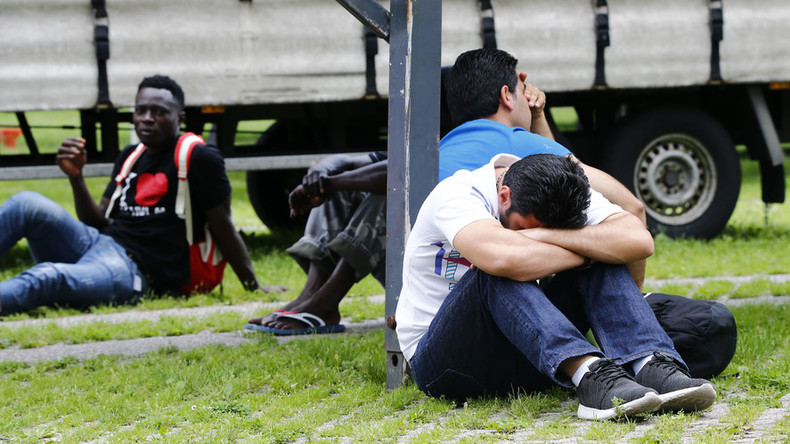 The northern German city of Rostock has decided to halt the construction of a family refugee facility following far-right violence and protests against migrants. Officials cited "dangers" to the newcomers as the reason for the stoppage.
The city's social senator, Steffen Bockhahn, who ordered the halt, said "the decision hurts" him, as quoted by Der Spiegel magazine. He added though that security should be a priority.
Far rights activists repeatedly rallied in July against the proposed asylum center in Rostock's Gross Klein district.
On July 23 an asylum-seeker center in the same neighborhood came under attack by radicals, Die Zeit newspaper reports. The assailants broke into the building, engaging in a brawl with the refugees, with police later settling the fight. The facility housed 15 youngsters who were then transmitted to another district in Rostock.
Following the violence, Bockhahn announced the halt to the construction of a new refugee center. According to Der Spiegel, the Interior Ministry of the state of Mecklenburg Vorpommern, where Rostock is located, considered the area for the new refugee center "not safe."
"I find it extremely concerning if we allow the far-right to dictate us where refugees are allowed to live and where not," Uwe Michaelis, a local politician voiced his frustration to Ostsee-Zeitung daily. Michaelis added that the radicals "would interpret it as their victory."
"It is unclear why the city capitulated so fast," Wolfgang Richter from 'Die Gesellschaft fur Gesundheit und Padagogik' (GGP) echoed the comment, as quoted by Der Spiegel. The body is in charge of various social projects in Rostock.
Meanwhile, more reaction poured in from Minister President of Mecklenburg- Vorpommern Erwin Sellering. Rostock should not "shy away" from radicals, he told Der Tagesspiegel daily. "But we can't leave unaccompanied refugee minors in a situation which is not beneficial for their integration and may even put them at risk."
The locals in Gross Klein remain split over the decision as well. One woman told Der Spiegel she backed the move not to allow refuges be housed in the area, calling them a "provocative gang." Another countered that she would "find it OK."
READ MORE: Blaze engulfs planned refugee center in Germany – crowd cheers, hinders firefighting (VIDEO)
The Gross Klein district is an area with a high unemployment rate, reaching 13 per cent. It became a scene of one of the largest protests against migrants in Germany. Back in 1992, locals and far-right activists chanting xenophobic statements besieged a refugee facility, setting it on fire.

The situation with migrants remains tense 14 years later. Last week, German Criminal Police (BKA) reported that 665 criminal offences against refugee centers took place since the start of 2016. The majority was "clearly far-right inspired," law enforcers stated.
In June, the BKA chief Holger Munch said that Germany is witnessing "an alarming level of far-right violence" against refugees.