Taliban attacks buses carrying EU, US tourists in Afghanistan, injures 6 (VIDEO)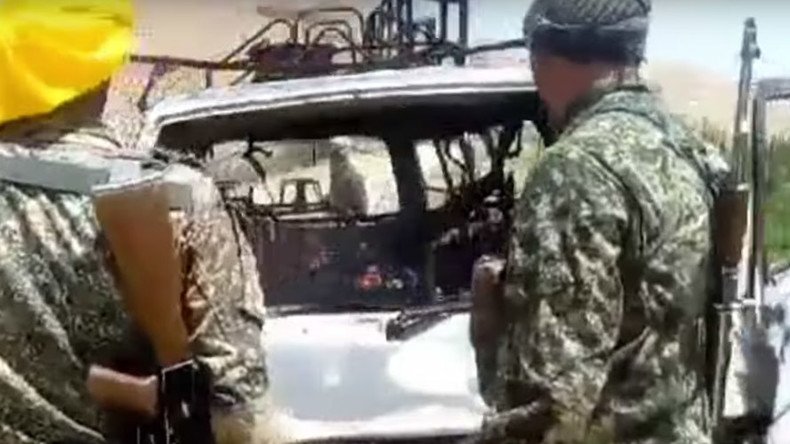 Taliban gunmen fired rocket-propelled grenades at a bus with European and American tourists near Afghanistan's third largest city, Herat, calling the assault an attack on "foreign invaders". Five tourists and an Afghani bus driver sustained wounds.
"The foreign tourists – three Americans, six Britons, two Scots and one German – were traveling with an Afghan army convoy when they were ambushed in Chesht-e-Sharif," Jilani Farhad, a spokesman for Herat's governor, confirmed.
The tourists, traveling in two mini buses escorted by the Afghan National Army convoy, were attacked on Thursday some 160 kilometers outside the city of Herat (99 miles), en route from the neighboring provinces of Bamiyan and Ghor. Pictures from the scene showed one of the buses to be completely burned.
Bamiyan, home to Afghanistan's first national park Band-e Amir, is an especially interesting destination for tourists because of its picturesque landscape and remains of the two of the world's tallest statues of Buddha carved into a mountainside. The 1,500-year-old Buddha statues were destroyed in 2001.
The Taliban has reportedly claimed responsibility for Thursday's attack, saying that it was aimed at "foreign invaders" and their Afghani "slaves".
The tourists have been taken to a NATO hospital in Herat city with minor injuries, US Army Col. Michael Lawhorn, spokesman for NATO's Resolute Support mission, has said, according to Reuters.
It was not immediately clear where injured tourists came from. One of the pictures showed a man being treated at a hospital. He had wounds around his chest and right elbow.
READ MORE: US-trained Afghan forces keep losing territory to Taliban – US govt report
The group of twelve tourists is expected to be evacuated to Kabul.
This recent ambush comes just days after a Taliban truck bomb and gunfight attack at a foreign hotel in Kabul, where eleven foreigners, nine members of staff, and 26 security guards had been situated.
The Taliban and other terrorist groups hold or influence 36 districts (8.8 percent of the territory) populated by roughly 2.5 million people, while another 104 districts (25.6 percent) were "at risk" of falling into militants' hands, a quarterly report published late July by US Special Inspector General for Afghanistan Reconstruction (SIGAR) estimated.
You can share this story on social media: