China holds massive naval drills to prepare for 'sudden, cruel & short' modern war (VIDEO)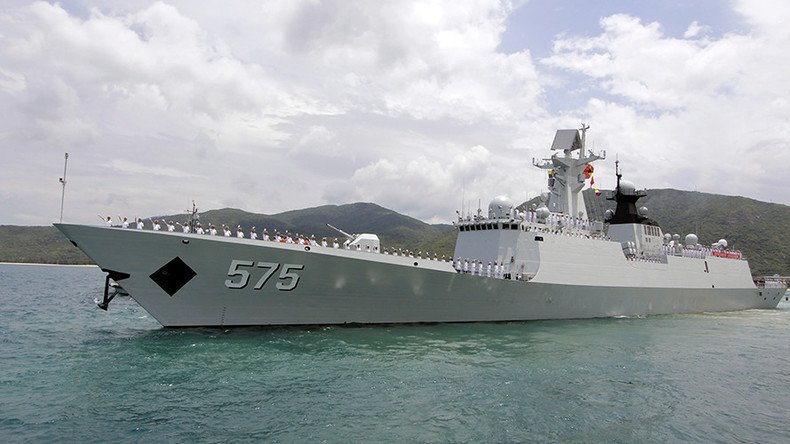 The Chinese navy held a large-scale "live ammunition" drill in the East China Sea, which involved hundreds of ships and submarines from all three fleets of the People's Liberation Army.
The exercise involving China's East Sea, North Sea and South Sea fleets practiced both offensive and defensive capabilities of the Chinese naval power. The exercise mobilized some 300 ships, dozens of fighter planes, and involved troops that are responsible for coastal defense radars, communications, and electronic warfare defense, daily newspaper The China Times reported.
READ MORE: 'Price to pay for US': Beijing ready to confront Washington if it intervenes in S.China Sea dispute
"The drill is aimed at honing the assault intensity, precision, stability and speed of troops amid heavy electromagnetic influences," said a navy statement released Monday. "An information technology-based war at sea is sudden, cruel and short, which requires a fast transition to combat status, quick preparation and high assault efficiency."
The participating troops and vessels were divided into red and blue teams. The red side joint-assault group perfected skills in attacking the blue side, while the blue team had to use missiles and torpedoes to counterattack their enemy. The drills overall covered a wide range of combat scenarios including reconnaissance, early warning, long-range precision strikes and air and missile defense capabilities of the navy.
China's Defense Ministry called the drills "routine" and not directed against any third party. The drills, however, come at a time of increased tensions in East Asia after an international arbitration tribunal last month rejected Chinese territorial claims to the South China Sea. Beijing rejected the decision by the Permanent Court of Arbitration in The Hague calling the ruling "waste paper."
Despite the court ruling, China continues to claim most of the South China Sea, through which more than $5 trillion in annual trade passes. Furthermore, China has repeatedly warned against US intervention in the region, which continues to show its force through the freedom of navigation principle.
"The People's Liberation Army is ready," one source with ties to the military told Reuters. "We should go in and give them a bloody nose like Deng Xiaoping did to Vietnam in 1979."
Last week, Beijing also announced that it would hold a "routine" naval exercises in the South China Sea in September with Russia.
"This is a routine exercise between the two armed forces, aimed at strengthening the developing China-Russia strategic cooperative partnership," China's defense ministry spokesman Yang Yujun told reporters. "The exercise is not directed against third parties."
You can share this story on social media: