Brazil sends 1,200 troops to city of Natal after gangs start all-out war on govt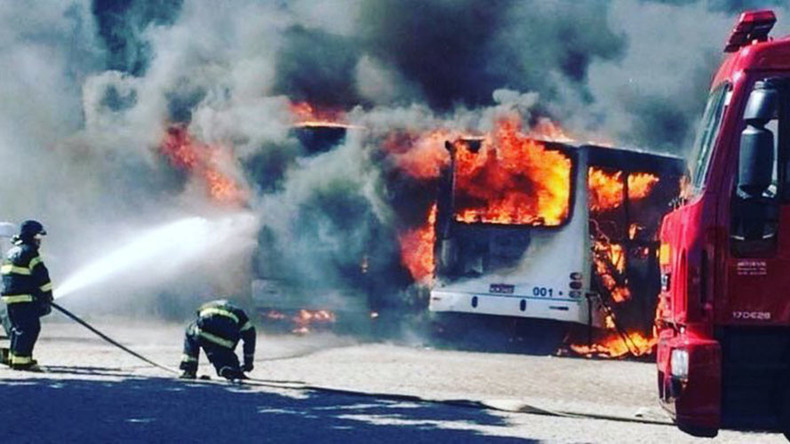 The Brazilian government authorized sending 1,200 troops to the Rio Grande do Norte capital, Natal, to quell gang uprisings, now in their third day. Urban unrest exploded when the government decided to jam cellular coverage in a local prison.
So far 52 arrests have been made of people suspected of involvement in the attacks. According to Portalnoar, a total of 53 cases of debauchery and destruction of property were reported by Sunday night. Government and other buildings also sustained heavy gunfire. Unrest was experienced in 20 municipalities, according to the Secretariat of Security.
The situation was only beginning to show signs of calming down on Monday, authorities told Brazilian media. But people were tweeting worrying images amid confusion surrounding the hashtag #PrayForNatal, because so few people knew what was going on.
According to Brazilian users familiar with the situation, things got underway on Friday, with 15 buses burned by Saturday, along with local landmark, the Morro do Careca. Public transport was halted, curfews were imposed and shots were heard, according to locals. People were scared to go outside (warning: strong language).
The following tweet was widely shared, blaming the alleged information blackout on the government's preoccupation with the Rio 2016 Olympic Games.
READ MORE: 'They've already won': Refugee Olympic Team arrives in Rio (VIDEO, PHOTOS)
Authorized by President Michel Temer, the 1,000 soldiers and 200 marines will carry out operations, but details will not be made available on Monday.
The request to deploy was made late Sunday by Potiguar State Governor Robinson Faria, after buses were attacked and public and commercial sites set ablaze. This was allegedly in direct response to the government installing signal jammers in a local prison in the city of Parnamirim.
A government statement explained this was "due to the exhaustion of the means to ensure safety" and "to combat violence playing the metropolitan region of Natal," Estadao reports.
"Bus traffic is suspended from Saturday afternoon. The population is unable to come and go. But there is no security to put vehicles on the streets without the support of the PM and the army. There is real risk to people, whether passengers or employees of the companies," president of the transportation union, Harley Davinson, was cited by Estadao as saying.
READ MORE: Brazilian drug lord busted after turning prison cell into luxury suite
Bus traffic was scheduled to restart at 5am Monday.
A press conference held Sunday also discussed the arrest of one of the leaders of the NB Crime Syndicate, John Maria dos Santos de Oliveira, who is widely thought to be one of the organizers of the attacks.
You can share this story on social media: