Brazilian drug lord busted after turning prison cell into luxury suite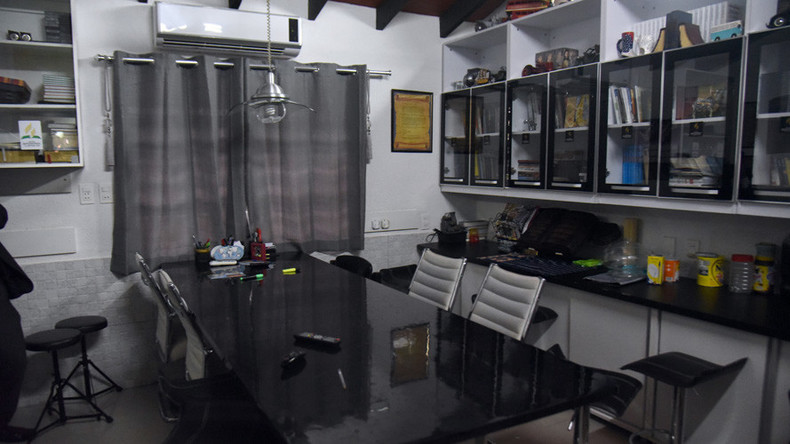 A three-room suite complete with a library, high-tech kitchen, stylishly tiled walls, plasma TV and even a conference room – no, it's not an apartment of a US rapper, it's actually a prison cell where a Brazilian drug lord was serving his sentence.
The VIP suite belonged to Jarvis Chimenes Pavao, a convicted Brazilian drug lord, considered one of South America's most dangerous narcotics traffickers. He had been serving an eight-year sentence for money laundering since 2009 at the Tacumbu prison in Asuncion, the capital of Paraguay.
Police discovered the luxurious cell on Tuesday night at almost the same time, as a bomb was uncovered inside the prison. It is believed that the drug baron wanted to create a diversion by detonating the device, in order to allow him to escape.
Chimenes Pavao was due to be released in 2017, but it is alleged he feared being extradited back to Brazil where he would face extra charges, hence his desire to break out of jail.
During his time behind bars, he certainly lived in luxury. The three-room cell had a bathroom, a kitchen and even a conference room. It also had air conditioning, stylishly tiled walls, luxurious furniture and a library.
Chimenes Pavao also enjoyed his big DVD collection, which he liked to watch on big-screen plasma TV.
The drug lord apparently loved watching films about other famous drug lords as the full collection of "Pablo Escobar" TV series was found in his cell. Escobar was a notorious Colombian drug lord and trafficker in 1990s. Known as "The King of Cocaine", Escobar was considered the wealthiest criminal in history and one of the richest men in the world.
Following the scandalous discovery, Chimenes Pavao was transferred to a cell in a police special operations unit. It's not clear what conditions he is having to put up with there.
His lawyer, Laura Acasuso was quick to tell reporters that high-ranking officials were aware of the privileges that the drug lord had access to.
"Six or seven justice ministers and six or seven prison directors" took bribes from Chimenes Pavao, she said.
The Justice Minister Carla Bacigalupo was subsequently removed from her post and her replacement, Ever Martinez, promised to destroy the cell.
"We're going to demolish Chimenes Pavao's cell and take action against the prison directors who allowed this inmate to enjoy these privileges," he said.
However, the criminal's lawyer says that the drug lord contributed to the renovation of the prison and paid for lodgings for prison directors and toilets for the guards. He even renovated the prison library and improved the cooks' salaries, he added.
Some inmates were also disappointed by the fact Chimenes Pavao was removed from the prison, as the drug lord has always been very generous.
"He was the most loved man in this prison," one prisoner, Antonio Gonzalez told AFP.
"I don't know what's going to become of us without him," another inmate said on condition of anonymity. He added that the drug lord paid for a football pitch and chapel at the prison and even employed bodyguards among the prisoners.
You can share this story on social media: