'They've already won': Refugee Olympic Team arrives in Rio (VIDEO, PHOTOS)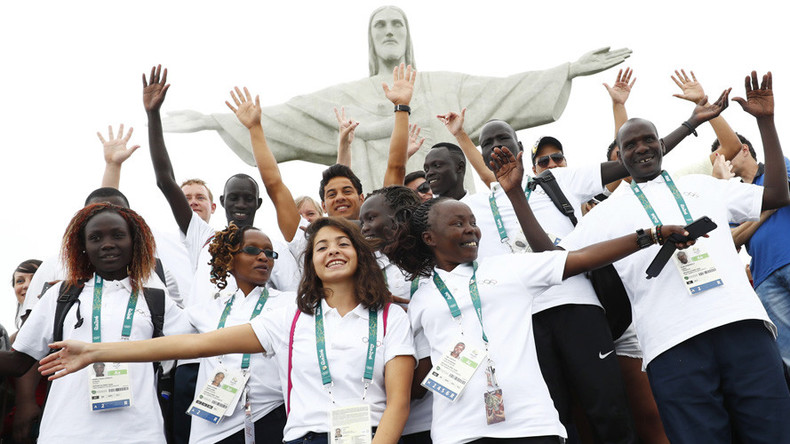 The 10 members of the Refugee Olympic Team (ROT), the first of its kind, have arrived in Rio de Janeiro, Brazil for the Olympic Games. The group will march as an independent team under the Olympic flag when the opening ceremony takes place on August 5.
The team is made up of two swimmers from Syria, two judo fighters from Democratic Republic of Congo, five runners from South Sudan and a marathon runner from Ethiopia.
ROT coach Geraldo Bernardes said that regardless of whether they win a medal, getting to Rio is already a great achievement for each team member.
"People ask if they can win a medal. I say they have already won their medals just by getting to Rio," he said.
Each of the refugees have had to flee their home countries for their own safety, including Yusra Mardini, an 18-year-old swimmer from Syria who left the country on a small dingy in August 2015 with 19 others.
While travelling across the Aegean Sea, their boat's motor stopped working and the dingy started taking water on board. Mardini and three other refugees, including her sister, got into the water and pushed the boat across the sea until they reached the Greek island of Lesbos, which took four hours.
Now living in Berlin, Mardini, who competed for Syria at the 2012 world championships, says the team's mission is to represent "the biggest flag - which is all countries".
"We're going to represent you guys in a really good way," she told a press conference on Saturday, as AP reports.
Mardini said that she will do her best in Rio, while she's aiming for a medal finish in Tokyo in 2020
Another of the team members is judo athlete Popole Misenga from Congo, who hasn't seen his family in 15 years.
''I have two brothers and I haven't seen them,'' said Misenga. ''I don't know how they look anymore because we were separated since we were small. So I send hugs and kisses to my brothers.''
''If you can see me on television now, you can see that your brother is here in Brazil and alive and well," added Misenga, who now lives in Brazil.
Yolande Mabika, another judoist who fled Congo, explained that while "everybody in the world talks about the refugees having no major importance," the ROT is "going to show that the refugee is capable of doing everything that other people around the world do.''
You can share this story on social media: