After slitting priest's throat, France church attackers smiled & talked peace and God – witnesses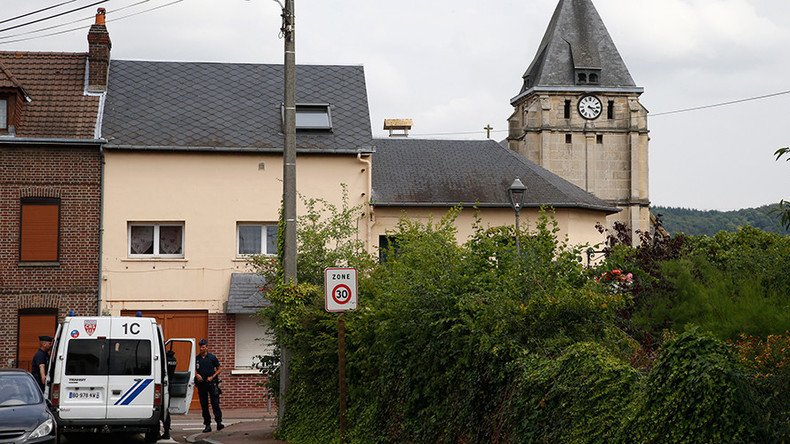 Two nuns, who were taken hostage by two jihadists in a Normandy church on Tuesday, gave accounts of their ordeals. They said one of the attackers smiled happily after slitting Father Jacques Hamel's throat and a bizarre theological dispute followed the crime.
Abdel Malik Petitjean and Adel Kermiche, both 19, were killed by French police as they tried to flee the 17th century Catholic church in the town of Saint-Etienne-du-Rouvray in the north of France just after killing its priest and seriously injuring an elderly parishioner.
Sister Huguette Peron and Sister Helene Decaux, both in their early 80s, were among the people taken hostage by the attackers, who pledged allegiance to the terrorist group Islamic State (IS, formerly ISIS/ISIL). Two days after the attack the still shocked women talked to the Catholic newspaper La Vie, which published their interview on Friday.
READ MORE: ISIS hostage takers kill 84yo priest at French church, reportedly slitting his throat

Sister Huguette said both attackers were obviously nervous and aggressive, but killing Father Jacques seemed to please one of them.
"I got a smile from the second (man). Not a smile of triumph, but a soft smile, that of someone who is happy," she told the newspaper.
The men then had a conversation about religion with their female hostages. One asked Sister Helene if she was familiar with the Quran.
"Yes, I respect it like I respect the Bible, I've read several suras. And those that hit me in particular are the suras about peace," she responded.
One of the attackers was apparently touched and replied: "Peace, it's what we want. When you talk to the television, tell the authorities that as long as there are bombs on Syria, we will continue our attacks. And they will happen every day. When you stop, we will stop."
France is part of the US-led coalition, which is trying to undermine IS in Syria and Iraq through a bombing campaign and supporting some of the local forces opposing the organization.
Later, one of the attackers tried to convince sister Huguette that Jesus could not be both a man and God.
"It is you who are wrong," he said.
"Maybe, but too bad," she replied, not wishing to argue and expecting that she might be killed.
As the police arrived, the two attackers wanted to use the women as human shields and escape. However they didn't quiet manage to cover themselves behind them, allowing police snipers to take them down, the nuns told the newspaper.
The church attack is the latest in a string of IS-organized or inspired acts of terrorism, which have been shaking France since 2015. Amid continued security failures, France is considering banning foreign sponsorship of mosques, Prime Minister Manuel Valls announced on Friday.
You can share this story on social media: