60 injured as Yerevan police disperse protesters from besieged police station (PHOTO, VIDEO)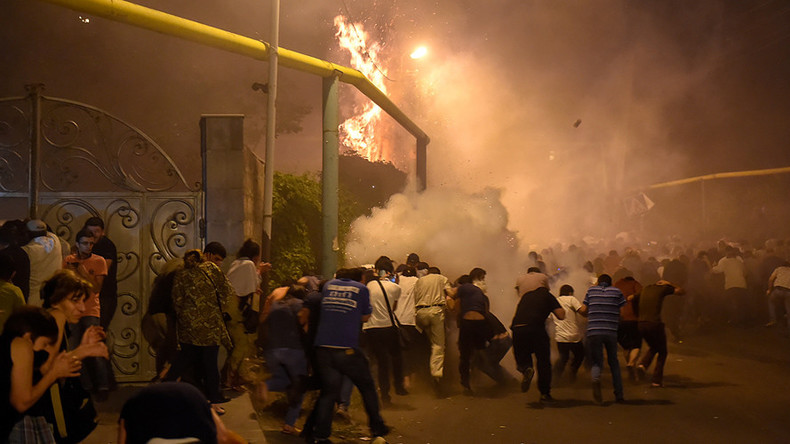 At least 60 people were injured when police used flashbangs to disperse protesters around Yerevan's police station that was seized by an armed group earlier in July. Demonstrators came out to support the anti-government gunmen.
Friday's violence began when protesters broke through an area cordoned off by police, before being forcibly pushed back. Ruptly footage from the scene shows a large crowd of protesters running away from the police, as loud bangs are heard and a blaze is seen in the background.
The police were wearing riot gear as they proceeded to chase off the protesters while banging their batons loudly against heavy shields.
Flashbangs shot by police officers created a thick smoke, causing demonstrators to cover their faces. In addition, one of the houses nearby reportedly caught fire from one of the flashbangs, local media reported.
Several journalists reported suffering flesh burns after being hit with police flashbangs. Separate reports described a group of people wearing civilian clothes beating up several reporters who were covering the demonstrations.
"Sixty people were hospitalized as a result of the police dispersion of demonstrations held around the territory of the patrol police building captured by an armed group in Yerevan," Ministry of Health spokesperson Anahit Aytayan told Sputnik Armenia.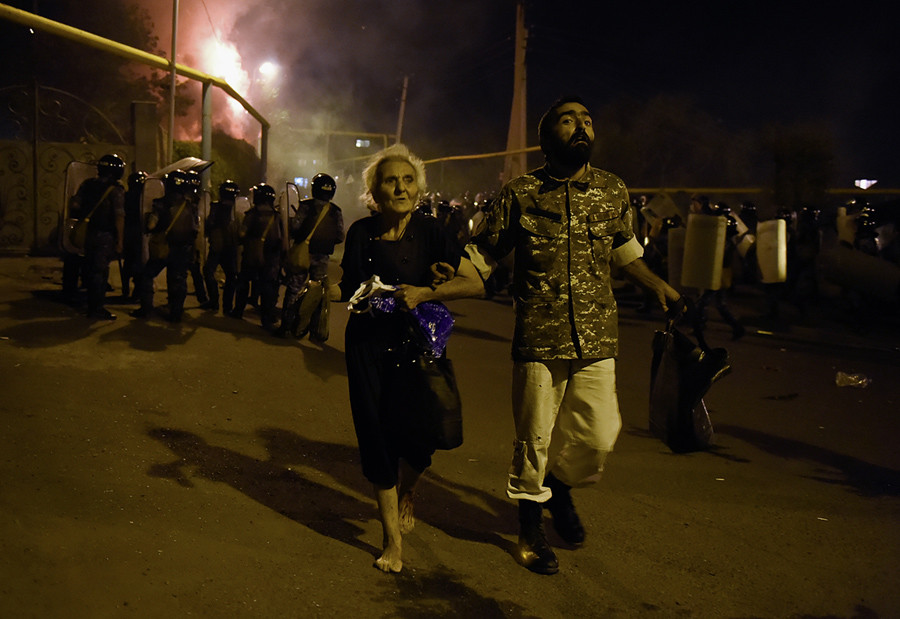 Supporters of the armed group came out on Friday, marching around the besieged police building in the Armenian capital. As protesters made their way across the city, police used flashbangs around Horenaci Street to disperse the crowd. Dozens were reportedly detained.
The armed group took control of the police station in the Erebuni district of Yerevan on July 17, taking several police officers hostage and killing one in the process.
READ MORE: Two gunmen surrender in Armenia's police station siege after brief shootout
Negotiations have been ongoing ever since. All of the hostages have been released, but the armed men then captured emergency responders who had come to the police station to tend to the wounded.

The group's demands include the release of Armenian opposition figure Jirair Sefilyan, who was detained on June 20 after authorities allegedly uncovered a plot to seize several buildings and telecommunication facilities in Yerevan.
Last October, Jirayr Serfilyan and his opposition movement, "New Armenia," announced that they would launch a "process of the civil disobedience and change of power."
Sefilyan openly said at a demonstration that he believes "achieving the shift of power only through elections is impossible; it can be achieved only by an armed rebellion of the people."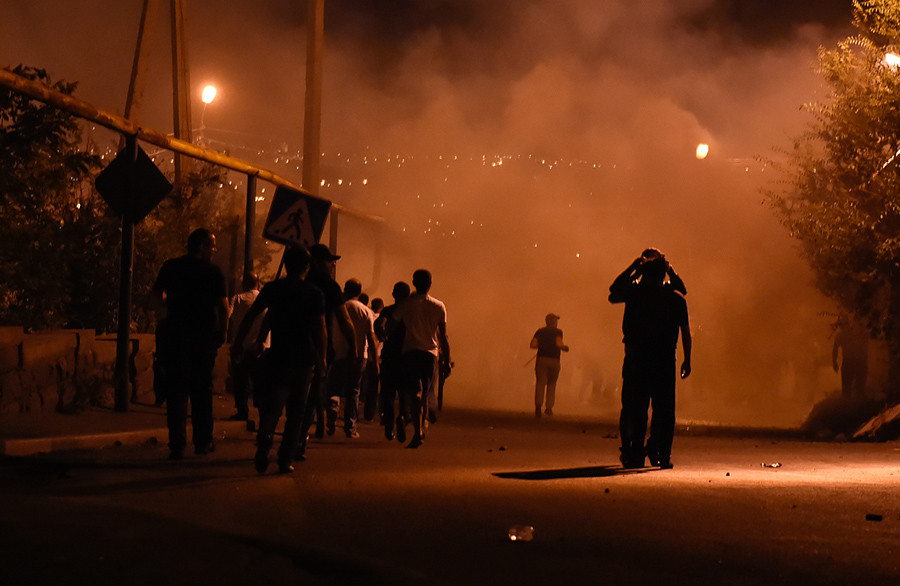 READ MORE: Scores injured in Armenia clashes as police station hostage crisis continues in capital
Earlier this week, two armed members of the group that sieged the police station surrendered after exchanging fire with police, Ashot Aharonian, the head of Information and Public Relations of the Police of Armenia told the media.
This is not the first time the group's supporters have clashed with police. On July 20, violence between police and demonstrators resulted in the injury of 51 people, 29 of whom were police officers. Police detained 136 protesters during those clashes.
You can share this story on social media: