Suspect on Russia's terrorist list apprehended at Stockholm airport, later walks free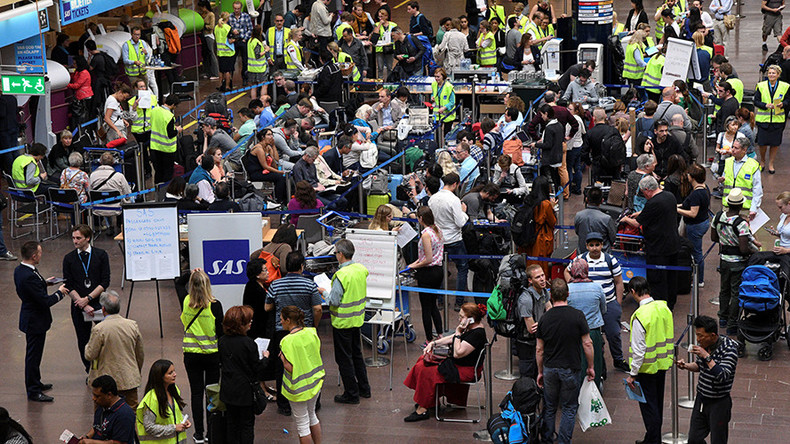 Police at Stockholm Arlanda Airport in Sweden apprehended a suspect who was being sought internationally and was wanted by Russia on suspicion of terrorism and murder. After being questioned, however, the man was later released without charge.
According to Sweden's Aftonbladet newspaper, the 36-year-old man, who was found to hold several passports, was on his way out of Sweden after a short stay in the country. The incident happened around 8.30am local time on Friday.
The case was reported to the International Public Prosecution Office. Prosecutor Ronnie Jacobsson informed reporters: "[The suspect] is in custody, and I have asked him to get a public defender."
Several hours later though, the prosecution office decided to release the man from police custody, revealing little information both about the suspect and why the decision to let him go had been made.
"My decision is based on what has been said during interrogations and what has emerged about the man. My overall assessment is that there are no grounds for continued detention," Jacobsson said in a statement for the press.
The man's lawyer, Johan Hansson, said that according to the arrest warrant, the events in relation to which his defendant is wanted are "old, between 12 and 17 years back." "There has never been any danger to Sweden," Aftonbladet cited the lawyer as saying.
Earlier in the day, the prosecutor declined to confirm if Swedish authorities had contacted their Russian counterparts, the Local reported.
The incident comes as Russia calls for increased cooperation on apprehending international terrorist suspects. The request was voiced by the Federal Security Service (FSB) following an international meeting of security chiefs which saw 100 delegations from 63 countries arrive in St. Petersburg on July 27-28.
The Russian federal agency has active warrants for some 260 terrorist suspects worldwide, all holders of Russian passports living abroad and accused of participating in terrorism.
And "there are over 220 potential 'pseudo-Shakhids [suicide bombers]' under operative supervision in Russia. FSB officers are systematically exposing persons involved in the preparation of kamikaze bombers and staging terrorist acts involving them," FSB chief Aleksandr Bortnikov said on Wednesday.
According to Bortnikov, these suspects are "actively preparing to transfer their operations to Russia and other countries."
The news also comes on the heels of what Russia says were repeated warnings to Turkey and the European Union that suspected terrorists were hiding out there – something Moscow believes their security services ignored.
Further to that, it turned out the Chechen man suspected of masterminding the Istanbul Airport attack in late June that claimed 44 lives and left more than 230 injured, Ahmed Chataev, was also on Russia's list, but, according to Moscow, was granted refugee status by Austria. This reportedly helped him avoid extradition multiple times.
READ MORE: Wanted in Russia: EU court blocked suspected Istanbul attack mastermind from extradition in 2010
To counteract terrorism more effectively, countries should consolidate their databases on terrorists into one, Bortnikov suggested.
"Almost every security service and law enforcement body possesses vast troves of information. However, these are isolated databases that have to be consolidated into one," he said, referring to Interpol and EU crime databases in particular.
Russia's initiative has already been backed by the UN Counter-Terrorism Committee Executive Directorate (CTED), Bortnikov said.