'Can't welcome everyone': Italy launches €1.5mn online project to deter migrants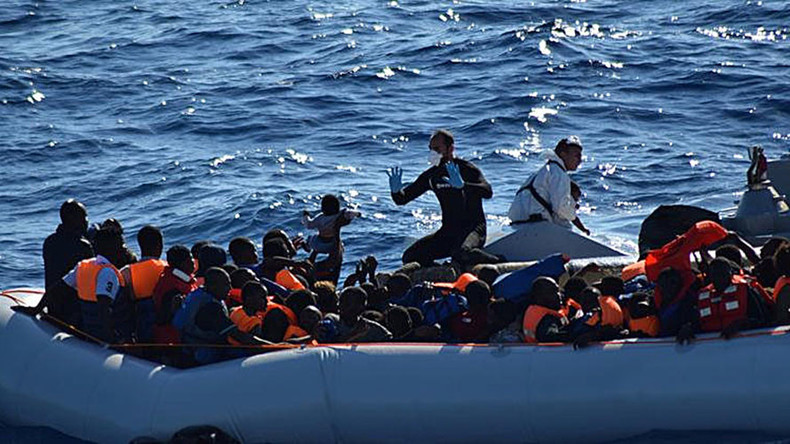 The Italian government has launched a media campaign aimed at raising awareness of the dangers of violence and exploitation during migration, in an effort to keep potential refugees from sub-Saharan Africa from traveling to Italy and Europe in general.
"'Migrant Aware' is a message in a bottle we have thrown into cyberspace," Italy's interior minister, Angelino Alfano, told journalists at a presentation marking the start of the campaign, local media reported.
The project has been developed by the Italian Interior Ministry and the International Organization for Migration (IOM).
The €1.5 million (about US$1.65 million) campaign was launched on various platforms, including its own website, Facebook, YouTube, Twitter and Instagram in July. It targets migrants in the 16-35 age group, who are considered to be more mobile and more likely to take the risk of the journey to Europe.
"Obviously we pride ourselves on welcoming all those fleeing war and don't intend to stop them from coming," Alfano said, according to The Local. "But we can't welcome everybody."
"Europe's migrant crisis is an epochal struggle," Alfano added. "This communication campaign is just one of the ways in which we are seeking to tackle the crisis."
The website contains news articles and other stories of migrants who left their home countries in search of better lives, and shows videos and recordings of what resulted from their journeys. The interviewees talk about the perilous voyages they faced and the loss and suffering they went through while trying to cross the Sahara desert or the Mediterranean guided by people smugglers.
All the video materials open with a note saying "the story you are about to hear is true," and end with statistics on migrant deaths in various regions and from various causes.
The information is available in three languages – English, French and Arabic – so that it can reach as many people as possible.
"It's like betting on one's own life," says 36-year-old Tchamba from West Africa who, together with his wife and newborn, was forced to board a boat and cross the Mediterranean to Europe.
"I can't' advise any of my family or any of my friends… to come to this country. Because it is very risky. It seems like you want to die. The heat can make you crazy… The worst thing is no water. It is the line between life and death," Leamy, 37, says as she shares what she saw and experienced in the Sahara desert.
The first-hand accounts are to be broadcast on local radio and television stations, and will appear on social media in 15 African countries, including the top three migrant suppliers to Italy – Nigeria, Eritrea and Sudan.
Renowned musician Rokia Traore, from Mali, will feature in the campaign with the song 'Be aware brother, be aware sister' which will also contribute to warning people about the hardships of the journey.
This year has seen an estimated number of 3,034 casualties among the migrants trying to reach Europe via the Mediterranean, according to the IOM's latest data. This year's figure significantly exceeds last year's number of 1,917 deaths.
READ MORE: 65 million people displaced worldwide, breaking all records – UNHCR
As of July 24, more than 300,000 migrants had entered Europe by sea since the beginning of 2016.
A recent report by 4mi, an affiliate of the Danish Refugee Council, provides interviews with around 1,300 migrants from the years 2014 to 2016 that give information on about 1,245 people who died during the first stage of their journey in the Sahara desert.
"The relatively small number of migrants interviewed ... suggests the 1,245 figure is a conservative estimate of those who actually perished," the report concludes, according to Reuters.
You can share this story on social media: