Italy arrests 38 suspected migrant smugglers who 'sold organs' for $15,000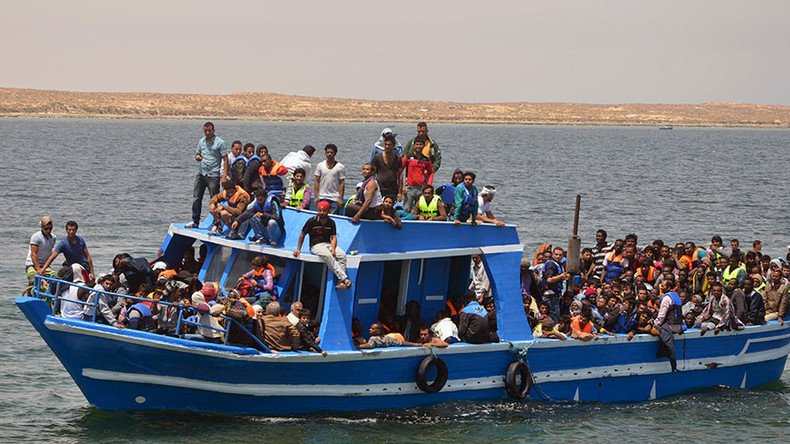 At least 38 suspected migrant smugglers have been arrested in Italy who are thought to belong to an international trafficking network involved in organ trafficking.
Palermo's anti-mafia unit launched an investigation after receiving testimony from Nuredin Weharabi Atta, a people smuggler sentenced to five years in prison by an Italian court this year. According La Repubblica, apart from the flourishing illegal immigration racket operating in the Strait of Sicily, there has been evidence of organ trafficking too. Traffickers reportedly sold the organs of hundreds of migrants that had not survived the journey to Italy. Worse still, some of those unable to pay the fee were killed for their organs, which the smugglers then sold for up to $15,000, including those of children.
Atta said he had decided to cooperate with the justice system because "there had been too many deaths, especially those at Lampedusa in October 2013... and too many others," Il Tempo reported, referring to a shipwreck in which 359 people perished.
The criminal network had its financial headquarters in a perfume shop near the Termini station in Rome. Police managed to track the money flow and seize €526,000 and $25,000 in cash last month, along with documents from hundreds of bank accounts containing the names of foreign citizens.
Many migrants make the journey to Italy by sea, according to La Repubblica. Those with more cash avoid putting their lives at risk in shabby boats by buying fake marriage certificates for €10,000 or €15,000 that allow them to come to Europe by land, or even plane, on the grounds of alleged family reunion. Once in Italy, newly arrived migrants receive phone calls from their family members, who send them additional money so that they can continue to their final destinations. The Netherlands and Sweden appear to be the two most popular countries of choice, La Repubblica reported. Money transfers were documented thanks to bugs and cameras that police planted in rooms used by the criminal network in Italy. Money made from trafficking migrants is thought to have been reinvested in illegal trade importing drugs from Ethiopia.
Europe is currently facing its worst refugee crisis since World War II. Last year alone some 1.8 million asylum-seekers entered the European Union fleeing war and poverty across the Middle East and North Africa, according to data from the EU border agency Frontex.
According to a report from Europol and Interpol, criminal networks generated $5-6 billion trafficking asylum seekers and economic migrants to the EU in 2015. The report describes migrant smuggling as a multinational business, with participants from over 100 countries, representing one of the main profit-generating activities of organized crime in Europe.
At least nine out of ten child refugees arriving in Europe via Italy this year have been unaccompanied, UNICEF says in a new report. UNICEF spokesperson Sarah Crowe told RT last month that minors are often forced to rely on human smugglers and go through "various forms of abuse and exploitation" on their perilous journey to Europe, which sometimes takes them "months and even years."
"If you try to run they shoot you and you die. If you stop working, they beat you. It was just like the slave trade," Aimamo, 16, told UNICEF, describing the farm in Libya where he and his twin brother worked for two months to pay the smugglers. The brothers said that when they arrived in Libya after a risky journey through Senegal, Mali, Burkina Faso, and Niger, they were arrested and beaten before one of the smugglers secured their release
You can share this story on social media: