'Can amount to torture': UN slams abuse of boys teargassed in Darwin detention center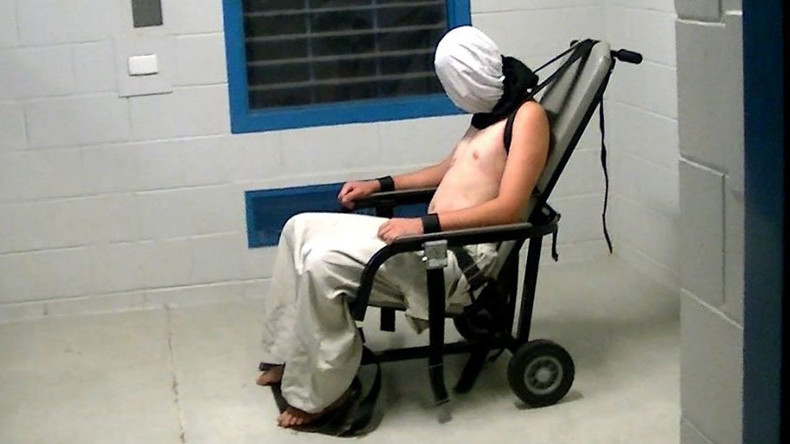 Abuse of juvenile detainees, teargassed and forcibly strapped to chairs at a Darwin detention center, in Australia's far north, could amount to "torture or cruel inhuman and degrading treatment," UN Special Rapporteur on Torture Juan Mendez says.
Acts shown in the disturbing video aired by the Australian Broadcasting Corporation (ABC) earlier this week from the Don Dale Youth Detention Centre immediately earned comparisons to outrageous abuses at the Abu Ghraib and Guantanamo Bay prisons. Claims of abuse of juvenile detainees at the facility have been either ignored or dismissed over years, ABC reported.
Graphic CCTV footage showed children at Don Dale being teargassed and forcibly strapped to chairs, among other things. One particular image – that of a 17-year-old boy Dylan Voller, hooded and shackled to a mechanical restraint chair, shirtless, helpless and motionless, has become synonymous with cruelty.
On the day in question, the teen was handcuffed, hooded and strapped down for two hours after he threatened to hurt himself while in the adult prison, according to the ABC. Voller, who is thought to have suffered several incidents of alleged abuse over a five-year period from October 2010, is one of six teens held in isolation cells at Don Dale.
The acts of abuse could potentially be classified as crimes under international law, Mendez, the UN Special Rapporteur on Torture and Other Cruel, Inhuman and Degrading Treatment or Punishment, told the ABC's Radio National.
"States are responsible for violations of this sort, but if they do react properly then their international responsibility is not engaged, or at least it's improved," Mendez noted, adding that he asked the federal government to provide information on how the abuses will be investigated.
"I do think that it's a very worrisome development that can amount to torture or cruel inhuman and degrading treatment under any circumstance," he said.
"Of course I am very concerned, and engaging with the Australian Government on the matter, hoping to get some answers.
"We need to know … that everyone that participated in it - including those that may have covered it up - have been appropriately punished, reparations have been offered and paid to victims … all these things are part of Australia's international obligations."
Australian Prime Minister Malcolm Turnbull said he was "deeply shocked," by the images from the CCTV footage and launched an inquiry into the matter.
"We want to know how this came about, we want to know what lessons can be learned from it, we want to know why," the PM told ABC radio.
"Clearly there has been mistreatment of young people," he added.
Following the release of the video, John Elferink - the minister responsible for young detainees in the Northern Territory - has been dismissed. Adam Giles, the Chief Minister for the Northern Territory, said there was a "culture of cover-up" within the prison system.
Six former inmates of the Don Dale facility, including Voller, are now suing the Northern Territory government for unlawful assault and unlawful deprivation of liberty.