Turkey issues warrants for further 47 journalists as 15K detained over failed coup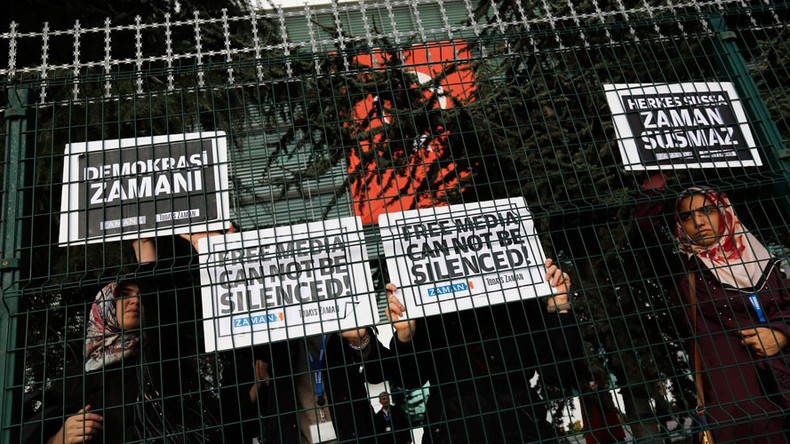 Turkish authorities ordered the detention of 47 journalists from a formerly oppositional newspaper amid a widening crackdown on supporters of cleric Fethullah Gulen, whom President Recep Tayyip Erdogan blames for a failed coup attempt earlier this month.
The warrants were issued Wednesday against executives and senior journalists of the Zaman newspaper, which was seized by the Turkish government in March.
"Today's detentions cover executives and some staff including columnists of Zaman newspaper, the Gulen movement's flagship media organization," a government official, speaking on condition of anonymity, told reporters, as cited by Reuters.
The official said that the journalists are not being detained for anything they may have written or said, rather because they may have useful information regarding Gulen's network, which could be used by the Turkish state in its investigation against the US-based Muslim cleric, who Ankara believes was the mastermind behind the failed coup.
"At this point, the reasoning is that prominent employees of Zaman are likely to have intimate knowledge of the Gulen network and as such could benefit the investigation," the official added.
A former columnist for the publication Sahin Alpay was detained at his home early on Wednesday morning, according to the Anadolu Agency, as cited by AFP.
The Zaman newspaper was previously linked to Gulen's religious movement before the government seizure.
State Department spokesman John Kirby branded the detention of more journalists in Turkey as a "troubling trend" that upsets "legitimate political discourse," Reuters reported.
The latest arrests come just two days after the Turkish government issued warrants for 42 other journalists including a well-respected commentator Nazli Ilicak, who was also a former member of parliament. A total of 16 journalists have been detained so far for questioning.
Turkey has detained more than 15,000 people in the military, judiciary and civil service since the abortive coup on July 15, CNN Turk cited Interior Minister Efkana Ala as saying on Wednesday. A total of 8,113 people have been formally arrested pending trial, Ala added.
Tens of thousands of people have also lost their jobs in the civil service and education sector.
The Turkish military confirmed on Wednesday that 8,651 soldiers had taken part in the failed coup, which accounts for 1.5 percent of the Turkish Army. According to the NTV television station, the military says the soldiers belonged to a "terrorist" network, which was led by Gulen.
The military added that 35 planes, 37 helicopters as well as 37 tanks were used in the coup attempt, which killed around 290 people, according to AFP.
"There is no institution which this structure has not infiltrated," Erdogan's son-in-law, Energy Minister Berat Albayrak, said in regards to Gulen's network of followers.
"Every institution is being assessed and will be assessed," he added, as cited by Reuters.
Gulen has denied taking any part in the coup and has urged the US not to extradite him back to Turkey. The Muslim cleric has been living in the US since 1999 and is the spiritual leader of the Hizmet movement, which supports moderate Islam, but is viewed by Erdogan as a terrorist organization.
"His [Erdogan's] goal: to ensure my extradition, despite a lack of credible evidence and virtually no prospect for a fair trial," Gulen wrote in an opinion piece for the New York Times, as cited by Reuters. "The temptation to give Mr. Erdogan whatever he wants is understandable. But the United States must resist it."
The US has so far rejected Turkish calls to extradite Gulen, saying that Ankara needs to present facts in order to make Washington consider sending him back to Turkey.
You can share this story on social media: