More attacks on trains expected 'at any time' – German police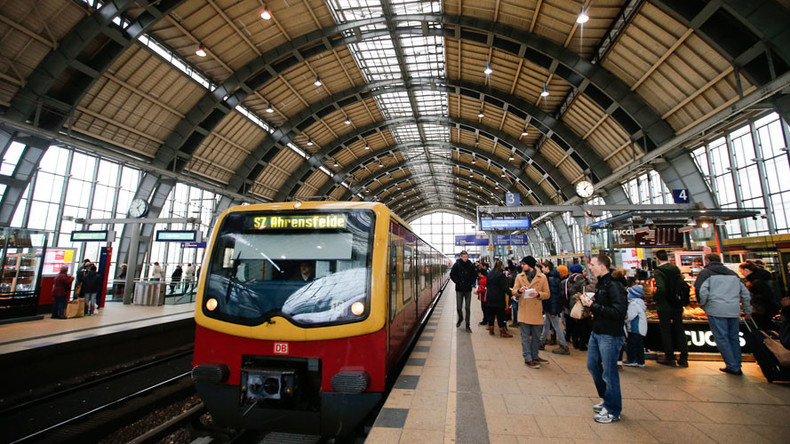 German railways are vulnerable to new terror threats that might happen at any time, after a 17-year-old refugee injured four people with an ax on a commuter train, police have warned, while highlighting fears of reciprocal violence from the far right.
Railways in Germany are subject to increased security threats "that can manifest themselves in a successful attack at any time," the Federal Criminal Police Office (BKA) said in an internal report cited by Focus magazine.
Threats to railway transport will remain a "considerable issue," the report stressed. It comes days after a 17-year-old refugee, identified as an Afghan, badly injured four passengers with an ax and a knife on a commuter train bound for the town of Wuerzburg in northern Bavaria.
However, the Wuerzburg ax attack could trigger a violent response from the far-right, the BKA warned, adding that asylum seekers would largely be targeted by far-right extremists either "inside or outside" refugee centers.
Although the attacker was shot dead by police while on the run, the case shocked the public. Searching the perpetrator's flat, the police found a hand-painted Islamic State (IS, formerly ISIS/ISIL) flag.
The group has said it was behind the attack, but Bavarian Interior Minister Joachim Herrmann said on Tuesday that a note was found in the teen's room indicating he may have been self-radicalized.
Following the Wuerzburg assault, there have been calls to step up security measures to protect passengers in trains and at stations. "The railway [company] has to invest in this," Rainer Wendt, head of the German police trade union, told Neue Westfälische Zeitung on Friday.
Along with deploying more security personnel, there is the need for better-trained and armed guards as well as more CCTV, he said, which could mean such safety measures were not previously in place.
The BKA's report echoes Interior Minister Thomas de Maiziere's statements on Wednesday, when he said Germany was, and still is, a target for terrorists.
"Like several EU countries, like the whole EU, Germany is also in the target area of international terrorism ... the situation is serious," he was quoted as saying by Reuters.
The minister has also mentioned an Islamic State video, thought to be authentic, in which a man whom it identifies as an asylum seeker vows to carry out a suicide bombing and calls on others to do the same.
"You cannot say there is no connection between refugees and terrorism, but the danger was high before and remains high, regardless of questions about refugees," de Maiziere warned.
Seventy-seven percent of Germans expect an attack to happen shortly, up from 69 percent two weeks ago, according to a survey conducted by Forschungsgruppe Wahlen pollster for broadcaster ZDF. In the meantime, 59 percent believe enough is being done to protect people from terrorism.
The ax attack in Wuerzburg came days after a French citizen of Tunisian origin rammed a lorry into crowds celebrating Bastille Day in the southern French city of Nice, killing 84 and injuring many others in an attack also claimed by Islamic State.